It is easy to say that moving house with kids is not a difficult thing. Indeed it is easier said than done. Moving house with kids is not an easy task and sometimes it may even turn things upside down.
Every parent wants their kids to be safe. Kids are much inclined to injury, even a small scar is enough to have a significant effect on their future.
As a parent, you have to be cautious of your child's safety which is your priority. Moving to a new house might be your dream but for children, it is completely reversed. They don't like changes that much and are more comfortable with a familiar atmosphere.
You may send your child to your neighbor's house or your relatives during the house relocation but that is not possible every time.
Even they will feel annoyed at some point. Therefore, it is not good to send your children to the home of your relatives. Instead of that you can involve your children with yourself but in the safe possible manner.
It is difficult to estimate how long one would take to pack things to move house from one to another. But it becomes easier when you have someone to do it for you.
So, it is thus advisable to hire a removal and storage company in Australia to do the relocation work for you in a short period without any disturbance.
One such company is Cheap Interstate Removalists in Australia which can help you to move all your household goods and furniture comfortably even when you are having small kids or toddlers.
Problems Arising When Moving House With Kids
While moving house with kids many problems may arise. Kids create a lot of disturbance as they don't feel comfortable when you start arranging all the goods of the house.
Apart from this, Here are some major problems that you may face at the time of moving house:
Kids may create a lot of hurdles for house removalists brisbane. They may trip them or place objects in their path because kids don't sit in one place.
They might play while packing, can hide some items, and can even damage a few or hurt themselves during the removal process.
We can't say anything about their temperament. They may be happy at one point and getting along well while they may be sad at another and may throw away goods.
They make noise or cry resulting in disturbing and distracting others including you by irritating them which may result in damage to the beneficial belongings.
They may break or misplace valuable things and this can increase delays and moving costs.
All these are common problems when you have kids at home. But you can deal with all these issues with patience and care. With some careful and precise steps, you can make your journey of moving house with kids easy and smooth for you and your kids too.
Consider These Following Things To Make Your Kids Prepare For Moving
Above you get to know about the issues orientated by moving house with kids and toddlers. But by considering all these following points you can make your kids prepared for their new home and environment.
Tell Them About The Moving As Early As Possible
It is better to tell them about moving so they get mentally prepared by the time of moving. Tell them about moving as soon as possible so they do not have to hear it from others first.
Make them fully prepared and include them as much as possible. After knowing they might ask several questions.  Be patient and answer all their questions one by one. They may feel confused and completely impatient. So help them as much as you can.
Make them psychologically prepared for the new location, many psychologists believe that it is good to tell the kids about the move before.
They should be aware of the transition ready to take place around them beforehand. Prepare them psychologically that moving to a new house means saying goodbye to old memories and welcoming the new ones.
Provide Sufficient Details To Your Kids
Your kids may need enough details depending on their age. Tell them the exact date and day when you will leave your current house and will enter a new one. Provide them with the details like how many rooms will be there, how life will change for good.
Give them reasons to get exhilarated, you must help them to find reasons to feel excited or delighted otherwise they will find reasons on their own to be unhappy, as an excuse for not moving house.
Take Them To See Their New House Before Moving
After telling them about the move to make them prepared for the reality ahead, bring them to the new house for visiting or around the area you are moving to.
Visit there with your kids from time to time before the actual move. This way they will get familiar with the surroundings and will make new friends there. They will feel excited about moving near their friend's house and will make them feel relaxed.
Stay Calm and Positive
The best thing to do while moving house with kids is to Stay Positive. Kids learn from their parents, so the way you'll react to relocation will have a significant effect on your child's behavior.
Kids might experience a lot of mixed emotions while thinking about moving. Help them to get engaged with music, games, and their favorite cartoon TV shows.
Talk With Their Teacher
In case, if they are going to a new school, then get help from their teachers by requesting them to take more care of your child and observe their behavior.
After relocation, it is not easy to adjust quickly for the small kids. Make aware their teacher to cooperate with your kids and help them to learn and understand the new environment.
Arrange A Babysitter
If your kids are not old enough to go to a school then it's best to hire a babysitter or you can ask your family members or friends to take care of your small baby or toddler.
It will be even better if you can send them to the babysitter's house while in the meantime you can pack alone or if you have hired someone, so with them. By this, you can easily manage and do all the things properly and quickly.
Most Important Tips for Moving House with Kids
When moving with toddlers or younger kids don't disturb their routine. Feed them at usual timings, walk with them and play with them as usual.
Moving house should not interrupt their routine as it may be stressful for them. And to manage the move we have mentioned the best reliable tips which help you in your house removals.
Here are some important tips for you to consider while moving house with kids:
Make a plan
Once decided, make a plan of your house removal at least a week before the actual moving day. Make a list of the do's and don't while moving house with kids. Making a plan helps you to do every work efficiently and smoothly. Everything should be according to plan and list and you won't miss anything important on your moving day.
Pack Early Than Required
It is better to start packing early because packing with kids might take a longer time than expected. If you are hiring a team of professional house removalists Adelaide to do the packing task for you, do let them know that you have a kid at home so they may do their work more safely.
If your kids are big enough, then give them small packing tasks in a playful manner. In this way, you can engage them with yourself and make them feel better about relocating to a new home.
Sometimes kids feel sad when seeing their things being packed up so just pack the items when they are not around either when they are at school ( if your child is old enough to attend school) or when they are asleep.
Don't Pack Their Favorite Things First
Packing everything is not a good idea especially if it is your child's favorite. They'll feel anxious about why their belongings are being packed. Kids are very close with their toys so don't pack them while they are around.
If there is something that you don't need or some unwanted toys for your kid instead of packing them just donate them to poor kids. Packing unwanted items will only consume your precious time and will be a waste.
Don't Put The Essential Things Of Your Kids Into The Moving Truck
Never put the necessary things like your kid's favourite toy or blanket into the moving truck. Try to carry all the necessary things with yourself into the car.
So that whenever your child needs his favourite things, you can give them. Make a bag of essential things like food, medicine, pairs of clothes, diapers, etc. This preparation will help you a lot at the time of moving from your current house to the new home.
Hire Professional Removal Services
When it comes to packing all the household items alone, the idea of DIY packing is also very stressful. Sometimes it's hard to tell where to start.
Packing fragile items requires a lot of care so it is better to hire professional removalists for packing and moving all the heavy and fragile goods safely.
After all, with kids, it is seriously not easy to make a DIY move alone. Expert house removal team can wrap every item with care and skill and have fully equipped vehicles to carry dining tables, soft furnishings, etc.
Meanwhile, you can take care of your family and kids properly and present them with an easy and happy removal experience.
Bottom Line
It is not an impossible task to move a house with kids but yes it is tedious. Your kids are your life so involving them in the process is important and mind-freaking also.
Above we have provided the detailed problem that may arise while moving house with kids. We have also discussed tips while moving house with kids and need to hire some professional removalists.
Hiring someone will be of great help especially while moving house with kids. Their professionals work accordingly as instructed. They arrive on time, pack on time and take care of your belongings in transit.
Our Company Cheap Interstate Removalists provides you with the best professionals, best environment, best services at a cheap and affordable rate.
Our company not only helps in moving the house but also has a lot of experience in moving furniture, office etc. We arrive on time and do everything as you wish. We do everything systematically.
It can also help you to move house between states. We don't exaggerate, it's our work that speaks. Hope these tips help you a lot in your next or coming moving journey!
For more information about our services related to moving and storage, you can contact our customer support via email or call 24*7.
CALL ON: 0480033100 OR

EMAIL AT: info@cheapinterstateremovalists.com.au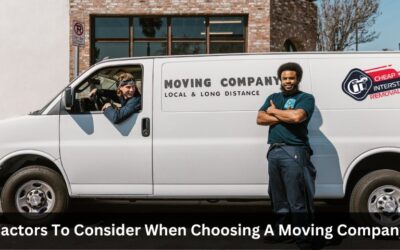 Moving might be a time- and energy-consuming task. One of the most critical decisions you'll make during your move is selecting the right moving company. With numerous options available, it's essential to consider several key factors to ensure a smooth and stress-free...
read more