Relocating from one place to another, be it for your work or personal reasons, is an exhausting and tiring job. This is more stressful when people have to move long-distance.
As moving from one state to another is a long process, sometimes, people forget to take care of some important factors which lead to several mistakes during the relocation.
These mistakes make the entire removal process more lengthy, time-consuming and increase the cost incurred during the relocation.
The best way to reduce the uncertainties while moving interstate is to hire professional removalists companies like Cheap Interstate Removalists.
Professional interstate movers include all the guidelines and provisions of national and international regulatory bodies for movers.
These bodies help protect the customer, support border regulations, and create better outcomes for the customers as well as movers.
There are also several other factors like proper packing, transfer of utilities, sorting of irrelevant goods, moving budget, hiring the right interstate removalists, etc., that need to be taken care of to reduce the chances of error. Here are a few tips to help you avoid these mistakes while moving interstate.
Tip 1 : Be Prepared With A Moving Budget
To move without any stress and have a smooth relocation, we need to manage our time and money well. This will not only help us to get ready before the interstate removals but also save money.
Create a list of all the things that you need to do and then tick them off as and when you complete them. Mark all the things that are urgent in a separate color so that you pay extra attention to them. Once you have completed everything make sure you double-check the list to prevent any mistakes.
It is very important to always have a budget ready for all your relocations, no matter how big or small. This will help you to relocate within a set budget and not hire expensive or overpriced removalists in Australia.
Making a budget in advance helps you to track all your expenses and avoid spending more than what is needed. A good planned budget not only tracks your expenses but also indicates what kinds of services you need to move interstate safely.
While preparing your budget, take into consideration the costs that can occur and the factors that can influence the prices, such as whether you want to move on the weekend or weekday, number of goods, moving complexities and the distance to be covered.
The cost of your moving company, cleaning, packaging and insurance can influence your budget drastically but by paying attention to the moving budget do not lose the quality of your move.
Therefore, choose the cheapest and best interstate removals service providers just like Cheap Interstate Removalists in Australia.
Tip 2 : Get Free Quotes From Several Interstate Removalists
If you want to conduct the move on your own, then consider whether you can cover such a long distance all alone. Ask yourself if you can carry all those goods and load and unload them from your moving vehicle.
The best way to move long-distance is usually by hiring professional interstate removalists who have previous experience in handling interstate removals.
Getting quotes from various interstate removal companies will help ensure that you get the best moving services at the cheapest rates. Removal companies usually give free quotes so get as many quotes as possible.
Tip 3 : Don't Invest Your Time And Money On Unnecessary Things
It is important for everyone to know what to pack and what not to pack. Sometimes people just take everything necessary and unnecessary things together at their new place without sorting anything.
This way of moving increases their moving cost and old broken things need more time to pack also. Therefore, to avoid the wastage of time and money, prepare a list of all the things that you will need at your new location, and only pack them.
There is no point in packing all the things that you don't need and then throwing them away once you reach your new location. It is better to throw them away before the relocation, as that will help you to save both your time and money.
The best way to sort your goods is to categorize everything in your house or office into three categories – sell, donate and dispose.
Sell items that you cannot take with you and that are in good condition, this will bring you a good amount of money also. Donate your old clothes, books and some other items which you don't use much.
Throw or dispose of all the old broken goods as they are only going to increase your moving expenses and nothing else. Dispose of them away before starting anything. It will also help save your energy and efforts.
Tip 4 : Never Delay The Packing Process
Most of the people leave their packing for the week before the final move. This is one of the biggest mistakes that people make as packing is a difficult part of the relocation. All the last-minute packing adds on to the stress and causes chaos and confusion on a moving day.
As soon as you confirm your moving date, start sorting everything from its next day and start packing. Always ensure that you pack all your belongings in advance and never leave any goods to be packed on a moving day. This will help you to be ready when your movers arrive and reduce the delay also.
Wrap up your item with a solid packaging material that has a suitable advantage over all types of weather conditions. Use good quality packing supplies like bubble wraps, stretch wraps, moving blankets, air pillows, strong tape to secure your every heavy and delicate goods for long-distance moving. Each of your items should be packed with a packaging material that suits its type.
Cover up and call off all the stress lying down under your nose. One more suggestion, if you are moving on very short notice, then don't take the stress of packing your goods yourself as haste can lead to poor packing of goods. In this condition always ask help from professional packers and movers.
Tip 5 : Label All The Boxes Clearly
Labelling and categorizing boxes and packages are very important as they help to assemble the goods easily at the destination.
Not labelling the goods creates a lot of unnecessary confusion during the packing as well as the unpackaging. If the boxes have no labelling then the cheap interstate removalists won't be able to load and unload them in an organized and efficient manner.
Labelling helps you to segregate the goods that are to be kept in different rooms and also differentiate between fragile and robust goods.
The cheap interstate removalists in Australia can unload the goods and assemble them in the new rooms according to your preference if they are well labelled.
Tip 6 : Hire The Trustworthy And Cheap Interstate Removalists
For such a long move it is crucial for you to hire the best and cheap interstate removalists in Australia. Other than the cost, you should also compare the services and the reputation of the removal company.
Book interstate movers who have been in the removal industry for a long time and avoid moving with inexperienced and novice movers.
Be sure to check the license of the movers before hiring them and ensure that they have the certification to carry out relocations across Australia.
Read the online reviews and testimonials from others who have booked the services to understand the quality of service provided.
Tip 7 : Leave The Stress Of Removal On Professional Removalists
Many people decide to carry out their entire relocation by themselves as they want to cut down the costs. However, moving on our own ends up costing more money than anticipated and gives a lot of stress.
It causes more damage than expected due to our lack of experience in removal. You often have to pay to repair things damaged during transit. By hiring professional interstate removalists, it is easier and cheaper than going through so much.
They are well-trained and can easily lift all the heavy furniture and goods. Expert moving companies have experienced movers who can safely load and move your house antiques like piano or pool table.
They offer the best man and van removal service for short and long-distance moving. This is why you should prefer hiring professional interstate removalists in Australia.
Tip 8 : Be Aware Of Forbidden Items
There are some items that are banned and are not allowed to be transported, avoid packing those items so that you don't breach the contract with your movers.
You should ask about the list of items that are forbidden for an interstate relocation and pack your goods keeping that in mind. These items are usually harmful such as corrosive, flammable, and explosives.
Moving companies do not permit plants, pets and perishable food to be brought along on the journey. These items may either get damaged or cause damage to your belongings which is why it is important that you don't pack them. Make sure you double-check before your movers arrive to avoid wasting your time.
Tip 9 : Don't Forget To Pack Your Moving Day Kit
This is one of the most common mistakes that people make. It is not possible for people to relocate everything on the first day of the move.
This is why we need a moving day kit in which we can pack all those goods which are extremely important and have to be used on the moving day itself.
These might include your toothbrush, shower gel, soaps, towels, tissues, and other items. These are the items that you might need at any time at your new location, which is why it is important to make a separate moving kit with these essentials.
Tip 10 : Transfer Of The Utility Services On Time
People usually forget to transfer the utility services on time which leads to a lot of commotion and chaos even after the relocation is complete.
Many times, they have to stay without electricity and water connection for weeks. If you forget to transfer the utilities then you may have to stay in a completely unfamiliar place without water, electricity, internet, landline, and other important services.
This can be very tiring and exhausting especially after interstate removalists in Australia transfer your goods to another city.
End Of Line
Relocating to a new place has never been an easy task. You need many things to consider for your move. Kids and all have their things on the list too. So, you need to choose the best removalists service provider that understands your needs and is suitable for your budget.
It is very common for human beings to make mistakes. You can only overcome your flaws when you work hard towards your goals.
Cheap Interstate Removalists Company specialize in interstate relocations and offer the best moving and cleaning services in Australia at very cheap rates.
For more details or any query related to moving interstate, you can directly contact our customer support team. Cheap Interstate Removalists are 24*7 available for their customers.
CALL ON: 0480033100 OR

EMAIL AT: info@cheapinterstateremovalists.com.au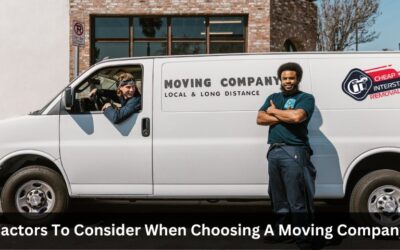 Moving might be a time- and energy-consuming task. One of the most critical decisions you'll make during your move is selecting the right moving company. With numerous options available, it's essential to consider several key factors to ensure a smooth and stress-free...
read more