Moving is time-consuming and expensive. If you do it alone, there can be many unnecessary expenses. You've just paid a down payment, closing costs, and broker fees, so the last thing you want is to throw your hard-earned money on unnecessary services or items.
Many people have budget limitations during a move after buying a new place, so if you are one of those looking to lower the cost of moving and want money-saving hacks, this article is for you. Cheap Interstate Removalists will share ten ways to save money during a move. We are cheap interstate movers, so you don't have to worry about budget-related issues.
Ways To Lower The Cost Of Moving
Here are some ways to lower the cost of moving during a move.
Don't move unnecessary things 
Many movers have prices based on the items you are shipping, so if you remove unnecessary items, there will be fewer things to pack, which will lighten up the load in the moving vehicle.
The fewer things you load, the less money you pay. Also, you can donate the items you don't need to any charity.
Find free boxes before moving
Before moving, you can look for free boxes from various stores, online marketplaces, communities, and friends. Packing boxes is costly, and finding boxes is easy and a perfect way to save money. You can find moving boxes on Craigslist, U-haul box exchange, Freecycle, and local Facebook groups. You can check out local liquor stores, big box chains, offices, and grocery stores to look for boxes offline. Finally, you can always ask friends, family, and neighbors for extra moving boxes if they have any lying around and are of no use to them.
Schedule your moving date and time
Another way to save money during a move is to select the right date. When it comes to moving, choosing the right time to move can make much difference to your pocket. First, you must avoid the 'peak moving season' from May to August. Instead, go for a mid-week, mid-month moving date between September and April. The demand for moving is lowest during mid months and weeks so the cost of moving your furniture will also be less.
But if you can't choose or don't have time to schedule your move between mid weeks or months, you can also go for a DIY move to save money.
Pack yourself
If you can't pay to hire a service or are looking to save some bucks, you can do it yourself and start packing yourself. A professional mover will undoubtedly do the packing faster, but it will cost a lot of money. Instead, you can do it yourself, and to do the packing efficiently, you can make a list of moving items, organize everything, go room by room, and label boxes so that you don't confuse yourself while unpacking.
Get quotes from different movers
Before hiring a professional moving company, get quotes from at least three movers. Each will give a personal inspection or a virtual survey of your belongings before giving you a quote.
But remember, for a long-distance, out-of-state move, the cost of moving is based on the weight of the items, so you'll have to tell the estimator the things you'll be taking with you to get the most accurate quote possible.
Read the contract carefully
Once you finalize the moving company you are going to hire, make sure to examine and check the mover's contract carefully. Consider your insurance and liability options carefully.
If you are moving nearby, you also need to determine whether to go for an hourly or flat rate. The hourly rate costs less for a local move, but the moving day can be complicated. Many things can make the day very long, so you must also consider what can go wrong before making the decision. Opt for a flat rate if it can be a long day. Also, look out for the extra fees and add-ons attached to your estimates to ensure the company isn't overcharging you for something that's not needed for your move.
A DIY move
Moving all by yourself is not easy, but if you want to save a lot of money, this is the best way. Hiring moving companies is very expensive, so if you can do it all by yourself, you can save a boatload of cash. In addition, you can enlist your friends and family to help with the move. You don't have to do it all by yourself. There will be much moving and packing, and you will need help, throw a small gathering party and take the help of friends in moving.
It will take a large vehicle in a big move for your items, so you can rent a truck. It will also save on costs. You can compare the rate of moving companies and vehicle rental services to see the difference.
Get moving insurance 
Some of the best moving services also make mistakes while moving. They're also human, but you shouldn't be suffering from hiring them. You want to avoid having a damaged item or losing some valuable possession so get insurance. You'll need more than 60 cents per pound coverage that comes free to replace it.
Deduct your moving expenses from taxes
Save the receipts! You can also save money after your big move. If you have shifted to a new location because of a new job at least 50 miles away from your last place, you can deduct the cost of packing, transporting, or storing your household items from the next year's tax return.
The IRS allows taxpayers to deduce the money they spend on moving from the taxable income.
Get portable storage
Some companies like PODS and 1800 PACKRAT will deliver a storage unit to your place. You will pack it yourself, and they'll pick it up from your place and deliver it to your new home.
You can save money here as you'll pay them just for delivering the selected items.
Conclusion
So these are the ten ways to save some money while moving. Of course, you should look for other things during a move, like being aware of rogue movers. Take recommendations from friends and neighbors for a mover. Look out for the red flags and avoid getting scammed. You don't want to lose your hard-earned money in a hurry to move things. Another thing you can do to save money is to look for discounts through some moving websites.
So if you made it to the end, you must be looking to move with cheap interstate movers, then select Cheap Interstate Removalists. As our name goes, Cheap Interstate Removalist will provide you with the best services at the lowest price. Our movers have made thousands of moves with perfection and efficiency. Our removalists are well-equipped and professional in their work to give you a smooth transition into your new home. We have a wide range of services throughout Australia, like A man with a van, house interstate removal, interstate office removals, and much more.
You can also contact us through

call on 0480 033 100 or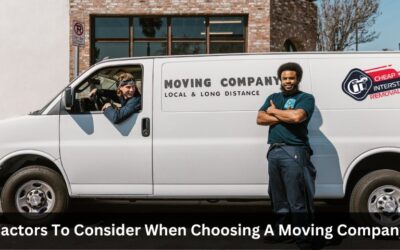 Moving might be a time- and energy-consuming task. One of the most critical decisions you'll make during your move is selecting the right moving company. With numerous options available, it's essential to consider several key factors to ensure a smooth and stress-free...