The process of changing places involves a lot of different things, from making a list of what items to pack and what to throw, buying new stuff for new places, and organizing things at new places. While you would want to deal with most of this stuff, sometimes paying for professional assistance seems easier, and it does take stressful things out of your mind.
A moving company is a group of professional and strong people that helps other people and businesses to move their goods from one place to another. Still, in addition to these removalist's services, these companies do provide a number of additional services depending upon your budget and requirement of the move, so you can decide what services you want to buy. However, some companies can charge for the additional service, and some can give a package deal at cheaper rates.
Here in this blog, we have mentioned the most common but essential additional moving services that removal companies provide for free or at a lower price. Read on to learn about them.
If you are looking for house removal services, we are here to help you.
1. Packing Your Stuff
While you would naturally have this urge to pack your stuff or organize things as it is your stuff, but this does take a lot of time and effort, especially if you live in a big house with a lot of things or you are just a busy person in general.
So a lot of moving companies, whether they are local moving companies or interstate moving companies, provide this additional service of packing and unpacking to ease out the relocation process for their clients. To do special padding or wrapping for different materials or items of the house will require a dedicated effort, which professional moving companies can offer. And depending on your budget, you can acquire a packing service for the damage-free relocation of your valuable goods. Some companies offer these services as a package deal with moving, so you can consider this service.
2. Furniture Disassembling
Some moving companies provide this amazing service: furniture disassembling and reassembling for heavy items like beds, pianos, pool tables, etc. If you don't know how to disassemble your house furniture and reassemble it at a new place, so consider using professional help. Some provide this service at an hourly rate, and some at a fixed price for particular items, so you can check with your moving company to get this service at zero or affordable cost.
3. Storage 
Sometimes you are ready to move things before your new place is ready to keep all the belongings, or for whatever reason, you need storage space to keep your items safely for some time. In this situation, getting storage service from your moving company will be an intelligent decision to keep your items safe. 
But not all companies provide this service, so always look for a company that offers moving and storage services both in one place. Some companies provide free storage for the first month and then add the minimum charges. 
Moreover, before booking the household storage service, make sure to verify the warehouse facility and trust a moving company that ensures the safety of your belongings. Check the safety features beforehand.
4. Removal Insurance
Even after all the professional packing or no matter how careful you are while packing, your household items are always exposed to dangers like damage, theft, or any accidents, so it is necessary to take insurance service provided by most professional moving companies. 
With insurance, you can guarantee that the moving company will pack, ship, and unpack with utmost care and attention, so this additional service is very important when you are selecting the moving company for relocation. Depending upon the company, they may or may not charge for this additional service, but you are ensured to be not at a loss. Therefore, it is good to take a moving insurance policy for your expensive items to make a claim with the insurance provider.
5. Shuttle Services And Split Pickup And Delivery
Sometimes the route to your house is not accessible by large trucks ( for example narrow roads or weak bridges ) of the moving company, so the moving company provides smaller vehicles for the transport and for this, they can take extra charges as this can require several trips.
Also, your goods will be picked up and delivered in two stages if you are moving far away.
Split pickup and delivery service are for those people who need some of their new items to be picked from different locations and some old items to be delivered at other locations. For example, you may need to deliver some of your items to be delivered at your friend's or relatives' place before moving into your new house. So this additional service is provided by a lot of moving companies. Again depending upon the package the company is giving, you can get this at a lower price if this is one of your needs while moving.
A Few Other Moving Services
Now other than these services, there are other additional services that are provided by these companies.
For example, in appliance servicing, if you are troubled with setting up your old appliances in your new home, companies do provide these services, but you'll have to pay extra charges. 
Another one of the difficulties that the movers can face is sometimes big. For example, bulky items don't fit through the door, so movers will set up a rope and pulley rigging system to take them in or out from other entry points. 
Taking items up the stairs is also extra work that movers do. The cost can be calculated by the flight of stairs or based on the time wasted while waiting for the elevator. This task needs extra care and attention. Specialized equipment and great expertise might cost you more.
Conclusion
Handling your bulky and heavy items creates trouble for moving companies also because these items are difficult to pack and move. So, rarely any additional service is actually free; otherwise, moving companies give a package deal or services at a discount price. But you can get some of these additional services for free if you choose the right moving company, like Cheap Interstate Removalists.
We are Australia's Best Furniture Interstate Removalists, offering packing and disassembling of bulky items at zero cost along with relocation. So, move anywhere in Melbourne, Canberra, Perth, Brisbane, Cairns, Adelaide, and Sydney with the highly professional yet cheapest interstate removalists in Australia. We assign an on-move manager who coordinates the work and ensures that part of each step is being done with a plan to save time and money.
So if you have any queries regarding anything in moving, you can contact us through

Mail at info@cheapinterstateremovalists.com.au

And call us on 0480 033 100.
Or you can also get a quote and get a free estimate for moving. So if you want to hire reliable and affordable removal services, contact us now.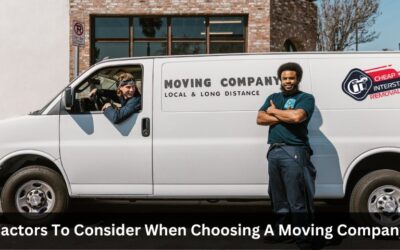 Moving might be a time- and energy-consuming task. One of the most critical decisions you'll make during your move is selecting the right moving company. With numerous options available, it's essential to consider several key factors to ensure a smooth and stress-free...
read more