Relocation is a big decision! and you can't manually relocate. You need to hire mover companies, but there are many such companies among them, and which one is the best is difficult to find. This is the question to which checking multiple moving quotes of the mover companies in your area is the answer. Examining multiple moving quotes of the companies lets you be aware of different moving fairs of different companies and removal services. 
Depending on some factors, moving quotes vary. For example, it depends on the weight of goods, the distance of the move, and the season you are planning to move. As there are certain seasons when moving prices increase or decrease due to the change in demands like during the off-season, quotes are relatively cheaper. Also, if special protection is required for the item, then the quote will be more. This is how moving quotes are regulated.
Checking multiple moving quotes speaks volumes. It helps you with planning your budget, and especially if it's your first move and you don't have any clue of how moving quotes function, then checking multiple moving quotes will give you insight regarding it. Therefore, you should check multiple moving quotes before hiring any moving company. 
If you are looking for Interstate Removalists, we are here to help you.
Read on to know the deep reasons behind checking multiple quotes for relocation.
Why Do You Need To Check Multiple Moving Quotes?
Are you up to relocation? Trying to figure out the best removalist? Checking multiple moving quotes is one of the most evident factors that determine which company meets your needs. Therefore, checking moving quotes is an essential step in relocation. 
Here are listed 5 strong reasons to back the question of why getting multiple moving quotes for your relocation is important:
1. Average Moving Quotes 
Checking multiple moving quotes, you will find out that most moving quotes estimates are similar; hence you will get the average moving quotes idea. When some company charges more, you can negotiate it, and if charges are low, you will get the idea that there is some major glitch to this company in case it's lower than the average moving company's quote. Because there have been cases when some moving companies conveniently charged less initially, and afterward, clients had to face the scam. Therefore, checking multiple moving quotes makes you aware of average moving quotes, and if you become observant, then there is no space left for such cases. 
2. Increasing Contacts
Multiple moving quotes let you compare many moving companies, and in this process, you get to know more about companies that are the best and meet your moving needs; this is how you get in touch with several companies. Also, when you contact them, then this increases the possibility of getting the best moving company which would justify your moving needs and budget. Therefore checking multiple moving quotes is essential, and it always works. 
3. Comparing Moving Quotes
Checking multiple moving quotes simply lets you compare different companies' moving quotes. By drawing such comparisons, you can easily understand which company will meet your needs and budget. As there are many companies among them, choosing the one with the most affordable and best service becomes a task, but because of multiple moving quotes, comparisons could be made, and the process becomes simpler and more trustworthy. 
Also, when you compare moving quotes, you get to know about different companies' package costs, service fees, additional charges, offers, and discounts. It opens many options for you to understand the moving process of different removalists precisely, allowing you to have the best moving company.
4. Set Realistic Quotes
Budget plays an extremely crucial role in the process of moving from one place to another. It becomes difficult to finalize the budget when you don't have enough exposure. You might land up assuming unrealistic moving quotes, but by checking them, you become aware of the average moving prices in your area. Not only that, you even become aware of an additional piece of stuff like travel costs, insurance, emergency cost, and packing supplies, and accordingly, you can set the real budget and find the company with the best service at an affordable budget. This way, you get the idea of the average quote in your area. Therefore, checking multiple quotes is an extremely important and practical option. 
5. Avoid Scams 
Scams alert! Cases of scams done by fake removalists companies are common these days. One of the reasons could be a lack of awareness among people. There have been incidents when scammers either disappear with your belongings or keep your belongings and won't return them until you pay an unreasonable price for such cases. 
Once you get aware of multiple moving quotes, you get an idea of the average moving price in your area. If any company charges less, then also you won't be scammed, as you'll already be aware of the average moving price in your area. This is how checking multiple moving quotes for relocation avoids scams. Because of checking multiple moving quotes, cases of scams have reduced, and it's one of the most important reasons why you should check multiple moving quotes for your relocation. 
Conclusion 
Changing your place is a demanding process. It gets hectic, but when you have the best company with skilled professionals, the process becomes worth experiencing and less stressful. While hunting mover companies, checking the multiple quotes is very important, and now you know the reason why. So, consider multiple moving quotes whenever you decide to move with a removalists company.
In case if you are searching for the best moving company in Australia that can move your stuff within your budget, then consider getting free moving quotes from Cheap Interstate Removalists. We are one of the trusted removal companies offering cheap and reliable moving services in Australia. Our priority is to provide trustworthy service within the budget of our clients. 
So if you have any queries regarding anything in moving, you can contact us through

Mail at info@cheapinterstateremovalists.com.au

And call us on 0480 033 100.
Or you can also get a quote and get a free estimate for moving. So if you want to hire reliable and affordable removal services, contact us now.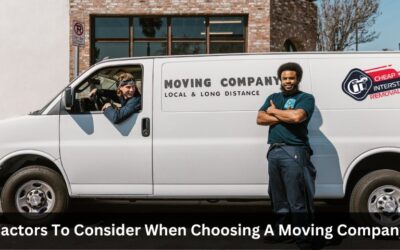 Moving might be a time- and energy-consuming task. One of the most critical decisions you'll make during your move is selecting the right moving company. With numerous options available, it's essential to consider several key factors to ensure a smooth and stress-free...
read more