Moving free seems to be impossible for many. It is tough to manage everything alone and that too at a cheap rate. Moving is not an easy task; it needs your attention and needs to be within the budget. Not everyone has the luck to move without affecting their pocket.
If you want to relocate your stuff without overspending money, you must calculate the overall expenses adequately. If you are a first-timer or even if you have moved before, you may still need some advice to learn more about smart moving.
We are experts in completing the move in our client's budget. We have pointed out a few tips and tricks to help everyone move smartly by saving money. You can follow these tips or understand the tactics behind any smart move.
1. Create A List Of Every Item
The habit of making a list is essential. It becomes more critical when you are moving. To avoid any further issues, make a list of all your belongings. Include all the big and small items. Create a particular section of expensive and delicate objects.
2. Declutter Every Unnecessary Item
There are many things present in a house, but few of them are unnecessary—Declutter all the useless items of your house. Keep them aside. Look at every corner of your house or the place.
Start by taking a brisk walk in the home by looking at the cupboards and dashboards. There can be many items that you may not have used for many years.
It can be an extra hair dryer or any old television you replaced with a new one. Any useless files or used pages, and also do not forget to look at the kitchen once.
The kitchen also occupies many duplicate items like scissors, knives, cutlery and crockery. Decluttering will help you know what important and least important thing you have had for so long.
If you are moving your office to a new place, it also must have many extra items. You can check in your office and declutter the useless ones.
3. Donate Or Sell What You Do Not Need
To save or gain money during the move, you donate or sell the items which are of no use to you. This is the best idea to get rid of them. If you do not get rid of it, you might end up loading these extra burdens while relocating.
These objects are of use for you, and all it is doing is occupying space. So, it is better to give them away.
There are two methods of achieving it, you can either donate or sell. The items like clothes which you do not wear anymore, old toys of your kids, shoes which are not grabbing your interest now and the books you've done reading, all these are good to donate.
You can contact any NGO or small scale organization working in human welfare. Get in touch with them, and reach out to show your true purpose of donation. It will be a good cause.
Apart from this, you can also put up a sale for these items. You can plan a yard sale and showcase your items with a price tag. Let people know about it by pasting banners and posters about the date and venue of the sale.
Involve your friends and family in it. Selling the extra items will also help you earn money, which you can use later. It is one of the most innovative ways to save and make money while relocating.
4. Try To Get Free Packaging Material
Packaging is a big task while moving. All your items need to be safe, and for that, you have to pack them with care. You will surely need a lot of packaging material even if you are moving house in Australia.
You will require many big or small cardboard boxes and a lot of bundles of various types of wraps and tapes. All of these will cost you a lot.
So, in this case, you can use some clever tricks to save money. There are many ways to accomplish your target of saving money in packing material.
Like,
you can contact your friends and family members for this.
Many people keep the extra fabric and boxes after use. So, there is a chance that they might give you those extra ones to use.
Other than that, you can also check on the online websites about this. Many online marketplaces put up the need of getting rid of extra packaging material, and you can get in touch with them to claim it.
Also, make sure you check your office storerooms to see any unused cardboard boxes or wraps.
5. Check On The Transport Vehicle
Transport vehicle is a significant part of moving. It costs a lot, and the price range also keeps increasing as per the fuel cost. You can save money on the vehicle for moving.
If you are moving long-distance and your luggage is also a bit more, you will require many vehicles. So, if you rent many small vehicles, it will cost more. It is better to hire a big truck instead of many small trucks.
This one trick will save you money. You can rent the vehicle from cheap moving companies Australia offering discounts on it.
6. Do Not Overshop For Your New House Or Office
The one important thing is planning for the future. You have to start everything from square one while moving.
You will be shaping your new house or office from scratch. There can be a chaos of shopping for the new place.
To do everything quickly, do not end up shopping more or unnecessarily. Avoid buying extra or excessive objects for your new house.
Do not overspend on anything. If you spend extra on any item, then there is no way you will save a single penny. So, it is better if you control your expenses.
Improve your focus by checking your expenditures. Keep a hold on account of costs on relocation. Purchase what is useful for you.
Make sure you don't go for anything that will be usable for you the next day. Try to reuse the items. It will also save money to buy more.
7. Hire A Cheap Moving Company To Help You
After all the tips and tricks, the best you can do to smoothen your moving process is to hire a cheap moving company. If you hire a removalists company that offers their service at affordable rates, it will help you save much more along with smooth moving services.
Make a list of the moving companies working in your locality. Contact them to ask for details about their removal services. Select one of them and discuss the dates and final price rate.
If you are looking for any cheap and best removalist service providers, we are your one-stop solution. Cheap interstate removalists are your destination to get the best moving service in the pocket-friendly price range. We are in this field of helping people move to their dream places.
You can contact us anytime,

through mail on info@cheapinterstateremovalists.com.au

or call on 0480 033 100

and our team will be more than delighted to assist you. We are available 24×7 for our clients.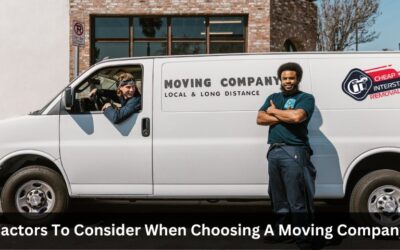 Moving might be a time- and energy-consuming task. One of the most critical decisions you'll make during your move is selecting the right moving company. With numerous options available, it's essential to consider several key factors to ensure a smooth and stress-free...
read more