Moving an office is a serious challenge for any business, presenting countless obstacles and headaches along the way. No doubt moving or expanding your business to some other place is very much exciting but it is not an easy job.
And taking the complete task into your own hands will be a huge mistake. For safe and quick office removal Cheap Interstate Removalists always recommends you hire professional office removalists who can help you with that.
Because it is not the matter of some things but it is about the safe moving of your important business and workstation. Moving offices can be stressful as it is exciting.
And to move so many desks, computers, furniture, and so other items is not an easy task for an individual. It eats up lots of your time and energy which indirectly causes loss in the business.
Professional office movers are familiar with all the areas and routes already. This will help you save time and will make the moving process tranquil.
Thankfully, there are many things you can do before and during your move to make sure it runs as seamlessly as possible and keep productivity at an all-time high.
Every business deserves uninterrupted, stress-free office removals. "Cheap Interstate Removalists", has a special focus on providing effective and efficient office removal services. Customer satisfaction is important to us and therefore we provide a complete suite of services.
You can save your time and money by hiring trained and professional office removalists for systematic and smooth office removal. Professionals have years of experience and have successfully moved thousands of commercial premises with their excellent knowledge and service experience.
They will provide excellent furniture removals and storage also when moving an office from one place to another. They understand every aspect of office shifting that allows them to avoid inapplicable costs that most inexperienced movers do for their customers.
Cheap Interstate Removalists is also an expert office removal company in Australia that understands how important it is to maintain quick, efficient services during a commercial office relocation. We will help you shift as rapidly as possible with no compromise in safety.
During your office move, transferring your inventory is not a problem with us. Our office removal team can pack, unpack, and store any of your items and even do a reinstallation of your office workstation, PC's, etc from one office to another – as soon as possible.
Packing Material Used By Expert Office Removalists
Packing office belongings can be rather difficult due to all the important and expensive items found in them. To be able to provide the necessary protection for your sensitive documents, office equipment, and office furniture, you need to prepare the correct packing materials in advance.
Collecting all these packing supplies is not a tough job but it requires good knowledge of finding the best quality material and time.
Majorly during an office relocation, no one wants to invest more time and want to shift all the necessary things as soon as possible without getting any loss in the revenue.
But hiring professional removalists for moving your office you need to take the stress of packing supplies and the packaging of your office belongings.
Professional office removalists will do all the packing and moving tasks for you and use the best quality packing material to safeguard your valuable goods from the jerks and bumps.
Here is a list of packing supplies used by top removalists companies to make the office move safe and secure:
Strong Cardboard Boxes
One thing is clear – you cannot pack your office belongings or any item without the convenience of strong cardboard boxes of different sizes.
When packing your office equipment, you should use the original packing boxes that came as electronic devices because they provide the best possible protection on the road.
Hopefully, you can place those original packaging somewhere, possibly stacked inside your storage room. If you don't have the original equipment boxes, then your removalists will provide you with sturdy boxes of similar sizes and use more protective packing material than you would have when using the original boxes.
Moving boxes are used to pack all the bulky and small goods safely. And it is required to pack almost everything.
Packing Papers
A lot of packing paper will be required to pack your office items efficiently. The office movers use clean, soft, white, and ink-free newsprint to protect pieces of electronic equipment.
They use packing paper to pack fragile items like glassware, antiques, trophies, frames, small gadgets, etc. Professional movers don't use newspapers to pack your office items because the ink can transfer to some of the more delicate surfaces and ruin your valuable things forever.
Bubble Wraps
Bubble wrap provides the best safety for all fragile items found in your office – from fragile sections of office furniture (glass panels, glass doors, etc.) to easily broken electronics inside the office. Bubbles filled with air serve as soft cushions to protect those fragile things from hazards on the road.
After wrapping fragile and electronics goods with packing paper or stretch wraps, use bubble wrap to secure everything properly. Air pillows are also used to safeguard the goods into the truck during transit.
Moving Blankets
Moving blankets are commonly used by expert removalists to protect heavy and delicate items like furniture, art and statue or heavy equipment from any kind of damage and scratches during the relocation process.
It also comes in different sizes and quality. Your office removalists bring all the necessary types of moving blankets to wrap your office furniture and equipment. Moving blankets does not only protect the item but also protects its surroundings from any kind of damage.
Packing Tapes And Markers 
Professional office movers don't just buy the cheapest packing tape, they pay a little extra money to get multiple rolls of high-quality packaging tape that can fix all the protective materials and secure your mounting boxes for office removals.
They use the best quality waterproof markers to label all the packed boxes accurately and secure everything with lots of strong tapes.
Benefits Of Hiring An Office Removalists Company
As we have explained earlier, that hiring professional office movers is far better than doing office removals on your own.
Shifting an office is not like furniture or house removals, it demands good planning and organizing skills that provide you with damage-free and on-time delivery of your office belongings.
Apart from this, here are some essential reasons and benefits behind hiring professional office removalists:
Reduces Stress Of Overall Office Relocation
If you are looking to reduce the stress involved in the relocation process, it is highly advisable to consider hiring a professional office removal company like Cheap Interstate Removalists in Australia.
There are lots of useful tips for selecting a moving service that can fit your needs perfectly.
The rules and laws guiding the moving service vary from state to state and may affect service quality and price. Therefore select the best rated and reviewed removalists company for your office removal and forget the stress and hassle of moving.
Professional moving companies provide you with the best removal solutions, plan and execute them in the best possible manner. 
Full-Value Protection – Moving Insurance Or Valuation
One of the advantages of hiring a professional removal company to help with your relocation is that they are fully insured.
Certified office removal companies provide full-value moving insurance on office removals to protect the value of their customer's office belongings. This contract will cover some parts of the value of the important equipment, gadgets, furniture and workstation.
After going through the contract and still feeling dissatisfied with the insurance involved, you can purchase additional insurance coverage for your belongings. If any damage happens with your goods then you can claim for it under your insurance policy for compensation or recovery.
Time-Saving – Complete Office Removal
Expert Office Removalists provides a helpful packing and moving service, which allows all your goods to be safely and smoothly delivered to the final destination.
All you have to do is discuss the terms and conditions with them and put the pen on paper. Team of office movers are quick and effectively move your office furniture and goods safely to the new location and reinstall everything as before.
Professional removal services are available 24/7 therefore, you can book your removalists on weekends also. For office removals, hiring professionals for this gives you an opportunity to spend time with your new office on other tasks. As soon as you move into your new office, soon you will start your work and incur a slight loss in revenue.
Experienced
Along with providing services like storage facilities, professional packers, the right tools, and machines. Also, provide subjective qualities. They have moved thousands of business places, commercials, offices, malls, etc and this experience matters the most.
The office movers provide you with the cheapest removal quotes and free pre-move surveys to meet your requirements. Having a team of affordable and experienced office removalists can reduce the chances of mishappening.
Endnote
Hello reader! If you are also planning to move or relocate your office to some other place, then give us a call and book an office pre-move survey that will be completely overcome by any interim fee.
Our customer support staff is always ready to help you and will clear all your doubts about the move, whether it is regarding packaging supplies, deadlines, our commercial storage and insurance policies, etc.
Forget the problem of relocating your office and allow our team of professional office movers to take charge. With years of removals and moving experience, Cheap Interstate Removalists ensure a hassle-free office relocation while keeping downtime to an absolute minimum.
For more information or an instant free office moving quote, just contact us via call and email:
CALL ON: 0480033100 OR

EMAIL AT: info@cheapinterstateremovalists.com.au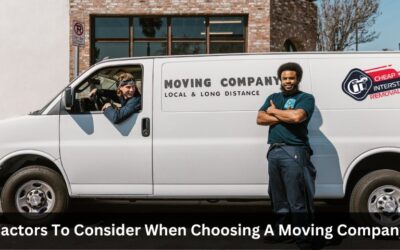 Moving might be a time- and energy-consuming task. One of the most critical decisions you'll make during your move is selecting the right moving company. With numerous options available, it's essential to consider several key factors to ensure a smooth and stress-free...
read more