If you are a great music lover or professional music artist, you definitely have one of the beautiful pieces of musical instrument, that is a Piano, in your house. It is expensive, delicate and too heavy.
When moving house or going to any music show, you need to move your piano safely to the desired spot, and moving the piano by yourself is never a good option. There are many reasons behind the piano not moving by itself.
Piano relocation is not an easy task because of the size and weight of the piano, and it needs very much care and attention while packing and moving.
Taking care of all these things is not easy for an inexperienced and unskilled person; therefore, one should hire a professional piano removals service, which is the safest way to relocate your heavy and fragile piano.
There are several best piano moving companies in Australia, and one such company is Cheap Interstate Removalists that provides cheap and reliable piano removals service in Australia for both local and interstates.
The trusted piano removal companies encompass all the guidelines associated with the central regulatory bodies for the removals industry.
These bodies help protect the customer, support border regulations, and create better outcomes for the customers and movers. Moving a piano even to a short distance is quite hard, so always make better choices for the safe piano relocation.
Problems While Moving Piano By Yourself
A piano is an instrument you love to roll your fingers. The thing about pianos is that they look beautiful but heavy in size. Moving a piano even an inch can be challenging because they are fragile too. Even the slightest of damage can costs you 100-1000 thousand dollars on a dime.
While moving a piano from one place to another, you should never think of moving by yourself or with the help of your unskilled friends because you are not an expert yourself.
Therefore, you should ask someone who is an expert in moving such things, no matter the size. Why are we saying that you should hire professionals only? There are some of the following reasons behind this:
Lack Of Knowledge: Piano relocation is a tricky job. If you don't have good knowledge about moving heavy and fragile things appropriately, it can lead to a poor piano relocation. Having ample knowledge of packing supplies and moving tools is necessary, but generally, both of these things may not be with you or your friends.
Liability: Moving bulky things comes with many liabilities. A piano is an expensive object, and its relocation by yourself could cost you more because only you will be responsible for any of the issues with your piano. Therefore you must not do it alone or with a group of inexperienced people to save some money.
You may feel very confident about one thing that not hiring expert piano removalists will save your money. There is a high possibility that you will damage your piano in the process. It's not like you don't know it; it's like you have never done it before.
Risk Of Damage: It is a crucial factor to pay attention to while moving your piano by yourself. Due to a lack of skill, knowledge and experience, you will not be able to relocate your heavy piano without any damage. You don't only damage your piano, but its surroundings also like walls, doorways, stairs, flooring, etc.
Injuries: When you move a piano by yourself, injuries and back cramps will be a part of it. We understand that you will try your best to safeguard your piano and yourself, but if you don't know about the proper protective measures, the piano's size and weight are large enough to injure you. We don't want to scare you, but sometimes not appropriately handling your piano can also cause severe injuries and death.
These are all the most crucial factors that should be considered and if you can overcome all of these issues, only then decide to move your piano by yourself or with your friends. Otherwise, hire the most reliable piano movers because moving such a valuable thing with zero awareness is never a good option.
Well, Cheap Interstate piano movers in Australia help you to continue with your flow while relocating this piece of immense expense. You don't have to worry when our team of professional piano removalists takes charge of the interstate movement of your musical instrument.
Why Hiring Professional Piano Movers Is The Best Option?
Broad Experience & Knowledge Of Relocation: Generally, people must have experienced shifting once or twice in their entire life, but professional piano removalists have immense knowledge about relocation, and they have years of experience in moving heavy and delicate objects to short and long distances.
They keep moving such kinds of objects every day and know all the pros & cons for smooth removal. Therefore, by hiring the best piano removalists, you can protect yourself and your piano from all the moving liabilities and injuries.
Value For Money Service: The price of the service has always been a concern for customers. But for the sake of saving some money, you can risk your expensive piano.
Hiring piano movers is not much expensive than damaging it. The piano removals service is entirely a value for money deal that must be hired for safe and hassle-free piano relocation.
Piano moving companies like Cheap Interstate Removalists in Australia take care of their client's moving budgets and offer cheap and full-satisfactory moving services.
Required Moving Tools and Equipment: Without proper tools and equipment, you can never think of moving your giant piano even to the next door. The right moving tools make the work effortless.
Expert piano removal companies have all types of tools and trucks to pack, disassemble and load heavy to complex pianos. They use premium packing supplies like bubble wraps, moving blankets, tape, etc.
While loading and relocation, removalists take all the safety measures and use equipment like heavy-duty furniture straps, furniture dolly, etc. The team of piano movers ensures the best possible way to move the item without any damage or loss.
End-To-End Piano Relocation: When you hire a trusted and reputed piano moving company, you do not need to worry about anything. From buying the best packing material to the transportation service, the piano removals company will manage everything.
They come to your place, dismantle your piano, safely load it into the truck and organise it to your desired spot. The piano removalists will carry out all the steps precisely, and you have to look after all the ongoing processes.
How Expert Piano Removalists Move Your Piano?
The team of piano movers has a solid impression as they have remarkable experience in moving these prestigious items. They assure the route for the destination before the actual operational date, especially in the case of intercity and interstate movement. Professional removalists focus on getting a smooth flow of movement.
Piano removalists assure the best quality both in time and cost by determining all the necessary factors. It's a really tough job to carry a heavyweight object with all the care and keeping in mind that there is no space for a minor mistake.
But you don't need to worry about this thing when you hire a whole team of best piano movers like Cheap Interstate Removalists in Australia. They are not only some regular movers, and their service scope is more than that, and they provide you and your family the most satisfactory service.
Apart from this, here are the following steps that the best piano removal companies follow during piano relocation:
Measure The Doorways & Piano Dimensions: Piano movers come and evaluate your place from top to bottom and the item you want to move safely. During the pre-move survey, they check the size of the piano, type of the piano, space and difficulties in relocation, how old or new the piano is, the weight of the piano and dimensions of doorways.
Plan the move: When you hire a piano moving company, your suggestions and planning matter a lot. The piano removalists create a pre-planned abstract structure of all the tools and techniques, transportation medium and number of movers required for smooth relocation of the piano.
They listen to your requirements and instructions and share the complete plan at the beginning of the procedure to have the inside outlook of the whole idea and how it will execute.
Prepare Your Piano For Relocation: On moving day, the removalists arrive at your place on time and start dismantling your piano to make it simpler for relocation and pack the parts of the piano with premium packing supplies.
The piano movers load the piano with the help of large furniture dollies and pulley lifts, cover all the parts with moving blankets and secure it with straps or ropes to protect it from getting fallen out of the truck.
Transporting the Piano: After assigning the safest and shortest route through which the movement of your piano will commence on a moving day.
Then comes transport; the piano lifting is one trick job to ingest because loading it into the back of a truck as per requirements is challenging but not for the experienced one's.
Piano Removalists have a robust pulley system installed in their trucks to uplift heavy things safely. They ensure no inconvenience in transit until the final destination as the piano is packed so that it remains unaffected from the jerks and the vibrations.
The End Of Line
That is how professional piano removalists clear all your doubts regarding the removal of your piano and the cost involved in it.
We hope you have also understood why you should not move the piano by yourself and the consequences if you did. If you are looking for trusted and expert piano removalists in Australia, do not look further and give a chance to Cheap Interstate Removalists.
What we show in our steps reflects in our discipline. We do not charge any hidden amount at the end of the relocation. Our Interstate Piano Removalists leave no stone unturned to assure the customer of the highest service satisfaction.
To know more about our piano removalists service and all the other moving and cleaning services offered by our firm, you can contact us anytime. We offer free quotes, clubbed offers and discounts to our potential customers.
To contact Cheap Interstate Removalists,
You can call us at 0480033100 OR

send us your mail at info@cheapinterstateremovalists.com.au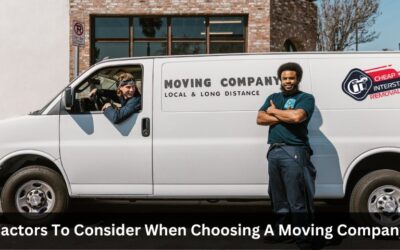 Moving might be a time- and energy-consuming task. One of the most critical decisions you'll make during your move is selecting the right moving company. With numerous options available, it's essential to consider several key factors to ensure a smooth and stress-free...
read more