Packing is challenging for most people, and people hire reliable companies to complete the process. Now it's time for companies to accomplish the job quickly with the help of trending innovation to give quality service to their customers. Customers also need the work to get faster and easier with the use of the latest technologies.
As we all live in a world where technological advancements affect all industries, the moving industry isn't out of its zone.
Technological advancements are changing the packing and moving industry every day. The new cutting-edge technology improves the overall process by making it faster, improving the quality of the service and efficiency.
Benefits Of Advance Technology In Moving
Here are some benefits of advanced technology in moving.
Virtual surveys
When comparing quotes for moving companies, you need to get quotes from different companies to select the best one. 
It's very invasive for people now with virtual quotes. The mover will send you a link where you can connect any time, and you'll have to show around the house with your camera. Also, it's easy and flexible as you can schedule it according to your time. People schedule it after or before work time so that they won't have to take time off of work. These virtual surveys also allow you to video record all your belongings in case you need to file a damaged goods report.
Digital inventory
Digital Inventories are also of great help that we get with new technology. Before this invention, inventories were done on paper. A big move would have pages listing all your house items, and you would have to sign every page before the truck left. 
While moving, writing, and going through every item is very time-consuming. Now with Digital Inventories, the moving company has labels with barcodes for every item and box that need to be moved. The labels are printed and stuck on each item. Then, the articles are scanned into a digital document before loading onto a moving vehicle. So you have a record of all your stuff online.
Smart packing
Innovative packaging, with the help of developing technologies including RFID (radio frequency identification) codes, has changed the way of moving companies. These codes are printed either directly on packaging boxes or integrated into them.
Your smartphone can receive signals from the RFID technology enabling automatic communication with the package so that the retailers can know the present status of their stuff in a few seconds. This helps to protect the belongings from theft and can also identify the package's location. Now moving companies also use sensors to track temperature and quality, especially for pharmaceutical food and beverage items.
Online web portals
As you can do everything online. Such is the case with moving companies; nowadays, online web portals are the best way to reach wider customers and clients. If you want to connect with any moving company or truck booking, you can find them online with just a click. Customers have many options when choosing and looking for a moving service online. They can browse and connect with different transport websites.
These companies also offer customers online support by giving them options for instant vehicle booking and making payment easier using modes like net banking, debit/credit cards, and others.
Easy tracking
Another technological invention that helps to keep track of the moving truck is quick tracking. GPS(global positioning system) is one tool that makes moving less stressful. The easiest way to see your truck on the move is to log in to your moving company's website and log in to your account. Then, you can see the exact location of your moving truck.
You can also receive updated ETAs through your account or via text. Knowing where the belongings are when moving gives customers a sense of security and relief, especially in a long move.
Digital payments
Payments via digital methods have changed the transaction process between customers and service providers. The transaction process has become much easier and more secure, especially for large amounts. 
Before this, one has to go to the bank and fill in all the details for the amount. It was a very time-consuming process, but now everything is at the tip of your hand. 
Furthermore, your moving company is most likely to accept all kinds of digital payments and most banks offer online banking. With today's face recognition software and fingerprint technology, your mobile device can ensure you are the only one with access to your information. 
Drone technology
VR (virtual reality) has changed how people view property and purchase real estate. It's been revolutionary how we interact with each other with the help of new technologies like 360 and 3D. 
Photography and drone footage shows you the location and the property's appearance without moving from your couch.
Drone photography and videos are directly used in real estate. The drone footage shows you can see your property and your neighbor's yards, roadways, and alleys in the surrounding area.
With the help of 360 photography, buyers can walk through the property they are interested in without wasting time.
Online research
If you are moving to a new place or city, think about how safe the neighborhood will be or where you will get your favorite drink and beverages in the new locality. 
In the Modern day and age, you can check out everything online about a place.
Accessibility 
You can access all the data related to your new neighborhood's roads, shops, and restaurants. You can also check traffic flow on the school and office routes.
With the help of apps like google maps, you can see the best travel time and routes to your destination.
Crime statistics
You can learn about the safety and security of your new neighborhood by checking online. Many apps provide these types of data about a place. Family Watchdog is a free app that provides information about sex offenders in your area. There is a fee for detailed reports.
Google maps
Google maps and business is a free service where you can see the company's location, working hours, services, contact information, and accessibility options. You can even get links to their website or call them directly from the map app.
Conclusion
Indeed technology makes a move more manageable, but you also need the best house or office interstate removalists for faster and easier shifting. 
Cheap Interstate Removalists are the best interstate movers in Australia which include all the technological advancements
to make moving easy. Our professional movers are well-skilled and experienced to cope with every situation that can come up during the relocation.
You can also contact us through

call on 0480033100 or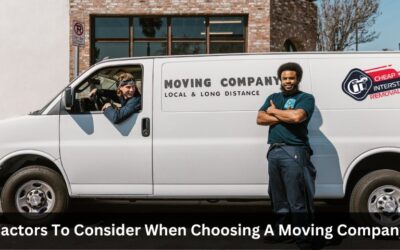 Moving might be a time- and energy-consuming task. One of the most critical decisions you'll make during your move is selecting the right moving company. With numerous options available, it's essential to consider several key factors to ensure a smooth and stress-free...
read more