Excited to move into your new building? But also worried as this building has got no elevators in it, and you are thinking about how you gonna move all our heavy and delicate items in your new building that has no elevator. So then you have landed in the perfect place. 
Cheap Interstate Removalists has listed one of the best tricks and tips to move heavy and delicate items like beds, sofas, wardrobes, and electronic items in a high-rise building with no elevator. So, stop worrying now because after reading these tips, you will have a clear idea about how to move into a building with no elevators hassle-free.
If you are looking for house removal services, we are here to help you.
Let's begin
10 Tips For Moving Into A Building With No Elevator
1. Sell Before You Move
Strategic thinking is a must before you make such big decisions. For example, you can sell out the goods you think would be too difficult to move or remove the items that cannot be disassembled, and you can predict that the railings would cause hindrance. Hence, selling heavy pieces of furniture before moving will be beneficial as it can save the cost and stress of moving them. So, remember to remove the unnecessary things before you move.
2. Disassemble The Hefty Stuff
If you are moving your essential items that are heavy and hefty, disassemble them before you start lifting them to go upstairs. The big and space-occupying items, such as beds, cupboards, dining tables, and all your larger belongings, can be easily disassembled to protect the most vulnerable to scratches and dents. 
3. Proper Packing Of The Belongings
Get ready with tape, scissors, bubble wrap, and plastic sheets before you shift. Your belongings may have to deal with sharp edges, huge road bumps, and rigid movements during transportation and have higher chances of breaking or falling apart, especially the things like lamps, paintings, TV, AC, tables, etc. So it's very much essential to cover your furniture and fragile items with heaps of plastic sheets, moving blankets, and bubble wraps. All these packaging items will protect your goods when you load onto the truck and carry them upstairs. 
4. Get Rid Of Old Junk
Another helpful tip for you can be letting off the things that are broken or no more useful for you, like newspapers, magazines, old clothes, furniture, and old toys. Leaving these items will give you relief from bringing the waste to your new home. Also, these items might seem small but occupy a lot of space, so it's better if you give the newspapers and magazines to a scrap house and donate books and toys to some orphanage nearby. This will help you to a great extent and also bring smiles to the face of the young ones. 
5. Choose A Proper Outfit
Next on the list is to choose a perfect outfit for you. Probably an old dark-colored outfit and rubber shoes would go well in this situation. Outfits play a major role make sure to keep yourself comfy, and it's better not to wear any kind of jewelry or synthetics.
6. Don't Burden Yourself
Staying calm in such situations is the best way to tackle them. Don't get overburdened, as it would only bring ill effects to your physical and mental health. Drink coffee, eat sufficiently and take out some time for yourself. You can listen to music or read books or do whatever helps you stay calm throughout the move.
7. Find A Hand Cart
The hand cart can be your best buddy when it comes to relocating and moving furniture into a new apartment. You can use this to move your furniture up the stairs with much less effort, giving your arms a little break but don't forget to tie your furniture to bungee straps while you bring them down. It's better if you ask for a little help from your buddies while using the cart.
8. Know Where To Put The Right People
The person lifting the lower end of the furniture up will burden his arms more than anyone else, so make sure you choose the right people for such heavy lifting jobs. If you have a grandma on board, you can give her small things like a lamp or glasses instead of the bottom of the couches. 
9. Ask for Help From Your Friends
If you can do everything on your own, we applaud you, but certainly, you won't be able to do so it's better to ask for help from those friends who have been treating on your salary for years. Allot them different works. One can help you with picking hefty goods while one can help you with directing you on the stairs. Feel free to bribe them with a dinner or a few drinks; after all, you need them at the moment.
10. Hire Professional Movers
The best way to stay safe and carefree during a move (especially the like this) is to hire a professional moving company like Cheap Interstate Removalists. Expert movers and packers help you to sit back and relax while they move your house furniture and appliances with no damage. This could be the best thing you can do for yourself and your furniture when you don't have an elevator in your new building. 
To Conclude
Nothing is more daunting than having to carry your heavy sofa set upstairs. Unfortunately, the lack of elevators in every apartment building is quite rare, but if you have to move into a building with only stairs, these few tips will surely help reduce the hassle of your move.
If you are shifting your goods to anywhere in Australia, feel free to contact Cheap Interstate Removalists. We help you move perfectly.
So if you have any queries regarding anything in moving, you can contact us through

Mail at info@cheapinterstateremovalists.com.au

And call us on 0480 033 100.
Or you can also get a quote and get a free estimate for moving. So if you want to hire reliable and affordable removal services, contact us now.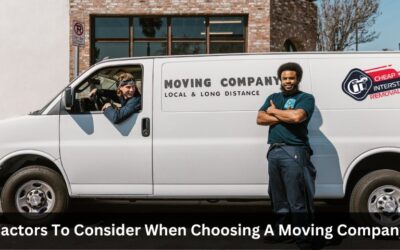 Moving might be a time- and energy-consuming task. One of the most critical decisions you'll make during your move is selecting the right moving company. With numerous options available, it's essential to consider several key factors to ensure a smooth and stress-free...
read more