Moving is not about collecting all your belongings, packing them and transporting them to the destination location. There are many small intermediate steps like getting quotes, reading reviews, choosing the right removal company for the relocation, etc. In this, a Pre – Relocation Survey is also one of the important tasks to do before the actual move.
The term Pre – Relocation Survey is a manual that can help you to create a list of the items you want to move out with and the items you don't need to carry with you. It's a simple yet effective way to obtain the information and generate a quotation for your move.
Expert removal company like Cheap Interstate Removalists in Australia will assist you to end your debate on what items to move and what to not.
The process itself does not bear any kind of cost and helps our customers to anticipate how much money they have to spend on removing their house or office belongings.
The most important reason behind Pre – Relocation Survey by the cheap and best removalists company is to provide you with the true estimation of your goods and your moving expenses.
Here you will get complete knowledge about what removalists do during the pre-move survey and what kind of questions you should ask your moving company at the time of removal survey.
How Long Does A Pre – Relocation Survey Take?
Many people still think that pre-move surveys are not so necessary or it will take longer. But it is completely a myth, a pre-move survey is necessary and won't take much time. You just have to call the best removal company and ask for the Pre – Relocation Survey and free moving quotes.
They will take your address, and arrive at your place in the defined time period and according to your convenience. Generally, your Pre – Relocation Survey takes 40-60 minutes depending on the size of your house or office and the number of items you want to relocate.
The time taken includes a question-answer round with the customers and an analysis of their belongings. With this, the removalists also explain to you how they will move your goods, the types of packing material they will use, etc.
Top removalists companies of Australia assure you that the expert team we sent to your location for the survey will try to take less time to complete the Pre – Relocation Survey.
How Does A Pre – Relocation Survey Work?
On the discussed date and time, the mover's group will visit your home or business place, whatever you want to move, and they will make a note of all the items, furniture, electronics, antiques, etc that you want to move to another place.
There will be a lot of unwanted things which you don't want to take with you at the time of the move, so have a quick discussion with our team to evade pressure at the time of packing your products.
You can also have a quick word on the confirmation of these following things, for example, date of moving, conveyance period, quality of materials required for packaging, any additional administrations required, cleaning services, insurance services, and storage service (if necessary).
When you talk about the entirety of your moving necessities like the real volume of your products, required services, the moving company will furnish you with the specific charges for moving your belongings.
They will also consider the factors like difficulties in moving, the distance between the old and new location, the number of expensive and fragile goods like a pool table or piano at the time of cost estimation and quotation generation.
Pre – Relocation Survey (Removalists-Side Questions)
Now you must be thinking, what types of questions will the removal company pre-move surveyor ask to you, here are some most important question the removalist will ask you for accurate estimation:
1- How many items do you want to take with you to your new location?
2- How many fragile items do you have in your house or office?
3- What time and date do you prefer for your move?
4- Some specific information regarding your new location or place of living?
5- Do you have an elevator in your building?
6- What kind of service package do you need? Like insurance, packaging, cleaning, removing, etc.
7- Is there anything you want to move more carefully?
Pre – Relocation Survey (Clients-Side Questions)
Now it comes to what should I ask during the pre-moving survey? This is much more of a clearing your doubt section. The removalists team manager or the surveyor will give you the answers regarding the overall process.
1- How much time does it take to move out our items?
2- What kind of policy followed by your team is related to safety?
3- What happens if something damages the bundle of our items?
4- How much coverage does your insurance policy cover?
5- Do you have any clubbed offer or discount on the removal services?
6- Can a customer track his belongings during transit?
7- Do you have any hidden charges or removal tips at the end of relocation?
8- Do you follow the covid guidelines?
These are all the necessary questions that you should ask your removalists for a safe, secure and unambiguous removal service.
What Are The Benefits Of Having A Pre – Relocation Survey?
You will get the exact picture of our shifting process, by simple man to man discussion. Every detail on paper, it's like a road map that defines our process understanding.
Easily clear your all doubts regarding the price and any other hidden cost of the service. It is best practice to clear your all doubts regarding every necessary element of the service.
You will have your clarification regarding our warehouse services. The storage capacity, surveillance system, convey and all.
If you want to add any additional services you can discuss this with them as well. This is the right time to think and add. This will help to eliminate any kind of delay in the process.
What Are The Different Ways Of Getting A Pre – Relocation Survey?
In earlier days, or we can say before the covid-19 pandemic, top removal companies in Australia such as Cheap Interstate Removalist offer only two types of Pre – Relocation Survey to their customers.
One is by visiting their premises and another is by filling the quotation form which is generally available on the website of the removal company. Nowadays there are three ways to get the removal quote and pre-move survey. These are as follows:
By Visiting The Clients Location: By this means, the pre-move surveyor will arrive at your house or office and do all the calculations related to moving estimation.
That will give you an approximated idea about how your move will be processed. The removalists will clear your all doubts about the moving services and make your service experience great.
By Video Calling/Chat: Through this medium of technology, we can share our information and clear your doubts. There is no need to step out of your premises at a time like this.
You can have us over your phone as well as monitor. Nowadays many people prefer to take a quote and pre-move service through video chat due to the pandemic. It is the safest way of surveying clients premises.
By Filling The Digital Form: The moving company asks you to fill in the exact information about your move as precisely as possible on the quotation form. And add some videos and photos for additional information if possible.
On the behalf of this information, the moving company will communicate with you and will serve you the exact knowledge and cost estimation for your house or business relocation.
Note:- This Pre – Relocation Survey is free of cost, Every moving company provides this in the same cost-free manner. The procedure will differ but the core element will remain the same.
Conclusion
Pre – Relocation Survey is all about being loyal to removal services and the customers. The pre-move surveys are completely free of cost. What matters for the removalists is the quality of the service and the level of satisfaction.
Cheap Interstate Removalists promise to help you in a way that you can never feel bad about the decision you have made to choose us over the others.
If you want to know more about this or to get instant free quotes or Pre – Relocation Survey, then just contact us today via call or email.
CALL ON: 0480033100 OR

EMAIL AT: info@cheapinterstateremovalists.com.au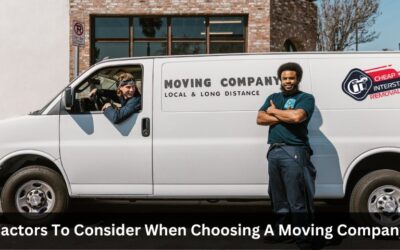 Moving might be a time- and energy-consuming task. One of the most critical decisions you'll make during your move is selecting the right moving company. With numerous options available, it's essential to consider several key factors to ensure a smooth and stress-free...
read more