The moving process is time and energy-consuming. This process involves different steps. Packing huge bulky goods and your belongings all by yourself takes enormous effort. Therefore, people hire moving companies to make their experience less stressful and more of a move.
Companies help you with packing, unpacking, temporarily storing, and cleaning services, but before hiring your companies, you need to decide which goods or items you want to move with and which of your belongings aren't essential. You might counter a question about where you can keep your extra belongings safely. Of course, you can keep your hard-earned belongings. But there is a better option! , you can put it in storage and store it with experienced storage companies.
Relocation is a complex process. You need to function diversely so that your method is simplified apart from finding experienced companies. First, you must safely put the rest of the "not-so-essential" luggage in the store from where it will be completely accessible. Many storage companies provide clients with safe storage facilities; the relieving factor is that you can access it anytime you need it.
You need to be clear about what belongings you want to put in storage and what extras aren't essential to carry; at the last point of time, you might get confused about what to do with certain belongings then storage is the correct option you can put those goods in storage and afterward you can decide if you want it or not.
If you are looking for house removal services, we are here to help you.
Type Of The Items You Can Put In Storage When Moving 
Here are some things you should put in storage that will make your packing more accurate and less stressful.
1. Seasonal Items 
For seasonal clothes, like in winter, you use woolen caps, sweaters, and blankets, which you will no longer operate in summer; you can keep them as luggage and store them in the company's storage house. Therefore, to keep your luggage decluttered, you should prefer relevant items. And you can store all the different non-seasonal things, and afterward, whenever you need them, you can have them. 
2. Unwanted Furniture
Furniture is your main luggage. Within the limited space, moving all your furniture will make the process nothing but more stressful. Furthermore, it is often possible that your furniture is old, so you want to avoid carrying it due to style concerns such as whether it will look good in your new modern house or premise. Nor do you want to sell it because of sentimental attachments; therefore, the immediate and trustworthy option is to put it in storage; it will work in your favor, and afterward, you can decide what to do with it. 
3. Not So Required Files And Documents 
Files and documents are essentials. No doubt you need them wherever you move to for your whole professional work, and other details are inside it; therefore, you must carry them but do you need to take all of them, even the ones of no use? Refrain from denying that we end up pulling all the files and documents, even those that have already been used or are too old to be used. There's no point in carrying them, but it might be like, what if you need them afterward? Therefore putting them in storage works! This way, files, and documents will be safely kept, and whenever youed them, you can have them. 
4. Large Appliances
Domestic appliances like washing machines, refrigerators, etc., are essential for the normal functioning of regular life. Still, when it's about moving, they require large spaces in the moving process, limited space is provided, and carrying these bulky large appliances might create problems, and there might be cases like you would like to buy new appliances; therefore, putting it in storage will help.
5. Avoid Not So Essential Items 
Books, documents, appliances, electronics, etc., are essentials you need to carry wherever you move, but documents, appliances, and books that are extra and are of no use incredibly bulky appliances that are extra, you might not need immediately but you might neither want to throw them but currently carrying will make the luggage bulkier; therefore, you can put in storage temporarily, and whenever you'll need them you can access it this way your items will be safe and accessible.
6. Legal And Safe Items Only 
Don't put any hazardous items like flammable liquids, weapons, or perishable items that can be dangerous to people and other belongings. Likewise, any illegal things in the storage will create problems and be risky to store. Therefore, put legal and safe items only in storage; storage companies don't accept anything against the law. 
Conclusion
During the relocation process, the number of belongings plays a vital role in determining the moving quote and how your experience will be; therefore, it's essential to plan out your items carefully. There are many such extra items, currently of no use, but you can still choose to throw them away. However, in the future, you might need them. Therefore, you can put such items in storage where they will be safe and accessible whenever you want them you can access it. You should find an experienced storage company. In addition, to a professional and reputed storage company, a mover company is required. It will make your relocation process sorted and more organized.
Are you also looking for a mover company that can fulfill your storage requirements? Then contact Cheap Interstate Removalists, one of Australia's trusted removal and storage companies.
So if you have any queries regarding anything in moving, you can contact us through

Mail at info@cheapinterstateremovalists.com.au

And call us on 0480 033 100.
Or you can also get a quote and get a free estimate for moving. So if you want to hire reliable and affordable moving services, contact us now.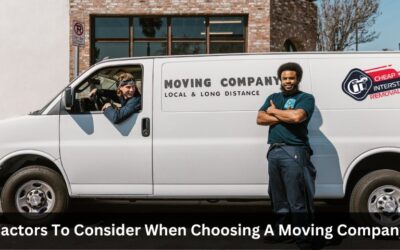 Moving might be a time- and energy-consuming task. One of the most critical decisions you'll make during your move is selecting the right moving company. With numerous options available, it's essential to consider several key factors to ensure a smooth and stress-free...
read more