To make this task easy and stress-free, you can ask your moving company for the best quality packing supplies and service. The trained and skilled packers deliver packaging material for your large, small, fragile, and valuable items.
They provide a wide range of standard packaging solutions and can pack your home or office when needed. Top moving companies also provide premium quality packaging material, along with removals and cleaning services.
They pack all items for maximum safety and group them according to their nature and place.
But suppose you are having a good time frame and planning to pack all the things present at your place by yourself for the relocation. In that case, having a sufficient understanding of the most essential and premium quality packing supplies is a must.
Here in this blog of Cheap Interstate Removalists, you will get to know about what type of packing supplies is necessary for safe and Damage-Free Relocation of your household or office belongings.
The Comprehensive List Of Packing Supplies
Plan for your relocation by gathering the appropriate packing material for all of your interstate and local removals. When packing your household furniture and fragile goods, do not go for the cheap packing material; it may spoil your complete moving journey.
Here we have mentioned the complete list of packing supplies required while moving:
Protective furniture pads
Different sizes of cartons for household goods
Corrugated boxes for TVs and bicycles
Specialty boxes like wardrobe boxes for clothes, electronic boxes, cell kits, Etc
Shock-resistant poly bubble wrapping
Moving Blankets for high-value items
Plastic protection bags for fragile and soft furnishings
Packing peanuts and crumpled paper
Specially designed protector bags for mattresses
Packing case for art, antiques, and pianos
Apart from this, here are the following are types of packing that you should be prepared with if you want a safe removal.
Paperboard Boxes and Bags
Paperboard is a paper-based material that is lightweight but durable. It is manufacture by folding fibrous materials that come from wood and then bleaching them.
It can be easily cut and handled to create custom shapes and structures. These features make it suitable for use in personalized packaging.
Paperboard boxes and bags come in various grades and sizes, and each type is suitable for different packaging requirements. You can buy or rent these boxes from any local house improvement store or local removalists near you.
The primary use of paperboard boxes is packing cosmetics, medicines, electronics, toys, and many more. When looking for paperboard packaging boxes and bags, try to choose the natural and environment-friendly material that can be appropriately recycled without harming the environment and used for the same packaging applications.
Corrugated Boxes
The cardboard box is the most common packing material used during the relocation process. Many people consider these corrugated boxes or cardboard boxes as they are readily accessible and cheap, but you should use them only for packing lightweight things. Depending on the longevity and stability of the box, these boxes come in different shapes and sizes.
They can be used to make packaging with different features, performances, and strengths. The board is cut down into different sizes and shapes for corrugated packaging. You can use these boxes to pack your clothes, books, small articles, kitchen crockeries, etc.
Poly Bags
A polybag, also called a pouch or a plastic bag is manufactured out of flexible, thin, plastic film fabric. It is one of the most common types of packaging and can carry a varied range of products including food items, flowers, waste, chemicals, magazines, etc. Polybags are long-lasting yet lightweight, reusable, and flexible.
The structure of the polybag is simple to make and be fully customized in design, size & style. Many poly bags are made with security features, tape attachments, hanging holes, and carrying handles to ensure the products are well secured. Due to all of these features, it remains cost-effective.
Bubble Wraps
Bubble wrap (also known as air cellular cushioning material) is manufacture from polyethylene film. It is a flexible sheet that wraps tightly around goods, and effectively protect all kind of fragile items like, glassware, mirror, equipment, etc. It comes in different types and qualities based on bubble size.
It protects your items against vibration damage. Bubble Wraps are affordable, lightweight, good insulator and shock absorber, and easily fit products of any shape in a package. Therefore, you must consider bubble wraps to pack and transport all your delicate fine arts.
Vacuum Packaging
For the products that need to be a seal, vacuum packaging is the best choice. Vacuum wrapping removes air from the particular object, which keeps out germs and dust.
Due to this, it made the preferred option for packing bedding items like pillows, cushions, blankets, etc. This type of packing is now trendy not only because of seal-proof packing, but it also saves much space. Their design also makes them famous for dry goods and food intended for a long-distance relocation.
Tape And Labeling Chits
Your packing process is incomplete unless you secure the boxes and label them correctly. Tape and labeling chits are very basic things while packing goods for a short or long-distance relocation.
You will get both these things very comfortably at your nearest stationery shop, and it is not that expensive either and if you buy your packing tape in bulk rolls to save on the overall cost.
Buy the strong packing tape of different colors and dedicate each color to different types of material like secure all the fragile items with red tape, blue tape for clothes, etc.
You can also buy a tape gun to dispense tape quickly. After securing your moving box, don't forget to give it detailed labeling with a waterproof marker.
Packing Peanuts Or Crumpled Paper
Packing peanuts are also called foam popcorns, commonly used for filling gaps between the packed items inside the moving boxes. It is a cushioning material that tightens up the loose-packed boxes and prevents the items from damage during transit.
Crumpled papers are also used for the same purpose, but it is also an eco-friendly substitute for packing peanuts. Both have their own pros and cons, but it really does not matter. You should get any one of them to assure the safety of your fragile items and furniture during the relocation process.
To Wrap It All Up
Packing is the most important thing to do before any move, whether locally or interstate. We hope all the given information will help you make your moving journey enjoyable and damage-free.
You can also call professional movers and packers to lessen your stress and load of packing for relocation. For them, the safety of your furniture and antique stuff is the topmost priority, and they ensure zero damage relocation by their efficient packing service.
While moving heavy household furniture, some of your items would be at the highest risk of suffering damages due to negligence or the use of poor-quality packing material.
It is possible to prevent such incidents by hiring professional packers to do the excellent packaging of all items with premium packing materials.
Cheap Interstate Removalists is also one of the trusted moving companies in Australia that offer affordable packing and unpacking services to help their clients move.
Our expert movers and packers take care of your whole moving process and provide a friendly team upon which you can always rely.
Our packers and movers help you transport your goods to their final destination with the cheap and best packing services.
For more information about our top moving and packing services, please you pick up your phone and
Call us at 0480 033 100, or you can write us a mail on

Our email id info@cheapinterstateremovalists.com.au.
Cheap Interstate Removalists would be very happy to hear your voice.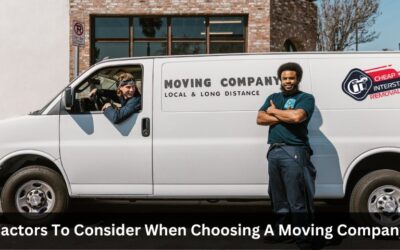 Moving might be a time- and energy-consuming task. One of the most critical decisions you'll make during your move is selecting the right moving company. With numerous options available, it's essential to consider several key factors to ensure a smooth and stress-free...
read more