As we all know that moving is a hectic job to do. While preparing to move, you might wonder if you are a homeowner and handle many things independently before your removalists arrive at your current location and begin their part of work.
Absolutely yes! Before your professional removalists arrive, you should do various things and start packing your precious possessions. Your preparation will allow the removalists to work freely and make your move efficient.
Maybe you have listened to stories about a smooth and distressful relocation experience. Those with great activities may be lucky enough to get competent moving services.
But one who has the worst move means relocating damaged possessions to your desired destination, which makes you feel unhappy.
If you wish to have a smooth and successful relocation, start arranging your possessions in advance and be exhaustively attentive to all crucial details for your comprehensive moving process.
You can do a number of things to make your relocation process extensively smoother, and that is to perform done planning beforehand.
Although you have appointed full-service expert removalists, you can hold various things under your control to accelerate your relocation process and speed down the risk of unexpected damages.
If you can perform several preparations independently, it will help you save your time on moving date. Read on this blog to know the several things to do before your removalists arrive.
1. Make A List Of Unmovable Items
All you have to do is note down the belongings your professionals movers refuse to relocate to your new location, and you require to make arrangements on your own to relocate them.
Some specific removalist companies can aid you to move those items, such as your plants and pets. And these are difficult to migrate from one destination to another.
You have to pack or prepare them and then load them into your vehicle. So, start preparing suitable sources to move your precious possessions.
Items perishable in nature like foodstuff and other harmful materials like inflammatory products like kerosene, car batteries, and fertilizers are not allowed to relocate in our moving service.
2. Remove Undesirable Items
Analyze everything and remove the clutter from your house. All you can donate, sell or throw away things in the garbage you hardly use or do not need anymore.
Withdrawing unnecessary things will take your time and money, but it is mandatory to do otherwise; you have to pack them and relocate them to your new desired destination.
3. Get Suitable Moving Insurance
Always try to choose the right moving plan. Familiarise yourself with all additional types of insurances available and suggested by your Removalist companies.
If needed, do not hesitate to purchase extra coverage for your particular belongings that hold sentimental and economic value.
4. Make Down The Items To Be Relocate
Note down detailed information about your essential belongings that will be relocated on moving day. It will help you arrange them and prepare your precious items, such as mishaps like missing and damage.
5. Organize, Clean And Sufficiently Fix Everything
Firstly unplug and clean all the electric appliances which are going to move.
Remove batteries from the electric devices before transporting them in a moving vehicle.
Try to drain the fuel out of any fuel-powered devices you may have.
Dismantle the furniture,
strip all pieces off linen, covers, decorative objects,
pack them separately on moving cartons,
and label them with their names.
It is important to pack each item properly because nobody wants to be damaged, stained belongings at their new destination.
6. Click The Image Of Each Item
When you pack your items or your removalist organization packed them through your mobile or camera, click everything on your camera.
These images help you keep them as proof of the condition of your belongings. all these images will be a better source of remembering to memorize your old destination and organize them similarly to your new destination.
7. Consider Your Entrance
Review if the size of your entrance door is fit to shift the size of furniture you need to relocate to your desired destination.
All you have to access is the narrow passages, sharp turns, and the vertical flights of steps you may have are fit to relocate all additional sizes of belongs to the removalists vehicles. When relocating items, your entire passageway must be free of barriers.
Protect all your bulky items and furniture with plastic or bubble wraps or blankets. Inform your removalists, the size and type of your entry door, passageways, bends, and staircase to facilitate their process of shifting your stuff to the moving vehicles.
8. Check The Weather
It is mandatory to review the climate and relocate appropriate based on the weather condition. Most significantly, keep your kids safe inside the home If the weather is freezing and drizzling.
Guard all your packed moving cartons and other belongings with bubble wraps or peanut packing to protect them from dirt, moisture, or mud, if any present on the base. Protecting the possessions with wrappers will prevent getting wet due to rain while offloading and hauling.
9. Double-Check Everything
Once the packing is over, check the entire house one last time. On a moving day, before the professionals movers arrive at your place, check all bases of your home, garage, kitchen, and washroom to ensure nothing is remaining behind.
10. Keep Your Old Location And New Location Clean And Clear
Be sure that your property does not get any damages and scratches. If you maintain the condition of your old house, it will help you sell it quickly or receive the security deposit without any significant problem in case you are moving from a leased place.
Cover floors and carpets with proper care. You can use doormats to save your floors from getting dirty and scratched.  Corner safeguards and old fabrics are the most valuable resources to secure the walls and corners from damages.
Wrap fences or guardrails with bubble wraps and shield the stairs with an anti-slippery layer. The anti-slippery layer will also prevent possible mishaps when moving possessions to the moving vehicle. Secure your door edges with foam padding.
Conclusion
Stay ready before our professional removalists reach your destination. Place Prepare yourself and talk to the responsive representatives. No Problem removalists to help you organize your move.
Your exclusive possession, manage your home and set your mind ready to experience the magnificent packing and moving experience. Cheap Interstate Removalists aid to arrange your relocation process.
You can also contact us through

call on 0480 033 100 or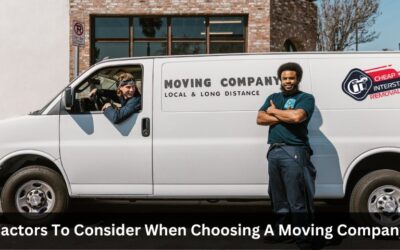 Moving might be a time- and energy-consuming task. One of the most critical decisions you'll make during your move is selecting the right moving company. With numerous options available, it's essential to consider several key factors to ensure a smooth and stress-free...
read more