Moving is already a tiresome process for families and even for couples. Add to that being a single parent with kids, and the process can be an overwhelming one. Most single parents are already living a very busy life. So the task of packing stuff, what to take, and what to throw isn't an easy one. But don't worry; planning things in order and well in advance will get this stressful task done.
If you are looking for house removal services we are here to help you.
Here are 10 tips for single parents that are moving into a new house:
1. Do An Advance Planning
Planning in advance is generally good advice in any case, but as a single parent taking care of all the things like your children at home and then working, multitasking all the way demands good planning. So you should plan when to move out and what to pack is essential, and for that, you need to take some time out to sort things. 
Prepare your paper plan of relocation at least 1-2 months before, write everything down that should be done before moving, and plan a day to do it. Some important things to plan could be like checking the schools of the new area that you are moving in for your kids. Use the time to plan these things when the kids are away at school to be more productive. List down things that are not important, or you won't take into a new home, start selling or removing those things to have fewer things to move, make a plan for informing your address change, and many other jobs.
2. Save Your Valuable Time To Do The Moving Essentials 
Lack of time is a big issue for most single parents. No matter how much you've left before the moving day, you should organize the time properly and use a moving checklist in order to get things done. Also, as a single parent, moving and packing everything will be tough and time-consuming, so take time to really think about what to pack or what not and make a list of new things that you will need at a new place. Try to buy most of these items after your relocation in your free time.
3. Include The Kids In The Moving Plan
Doing things alone is always a challenging task, but not to worry. You have your little warriors to help you out. Involving them in a moving process is important. It will relieve you of some of the burdens, and they will also enjoy helping you. Depending upon the age of your kids, you can teach them to pack small items and clean the house and also the importance of giving some of the old things to others.
4. Find New School For Your Kids
Finding a good educational institution is very important for your little ones. For that, you can always look up online to check out the best schools in your nearby area and do a little bit of survey in the neighborhood for the new area to know what exactly can be a good school for your kids. 
You will also need important documents to register them at the new school, so don't forget to acquire them. But if you haven't decided on the exact location to move to, you can also do the same thing, a little bit of research for parks, hospitals, etc., on the new place that you are moving to.
5. Donate Old Items
Elimination of stuff that is old and unwanted is also important. Donate if you think some of the old items won't be any good in a new place. This also can be a good teaching for kids to learn about the importance of giving or sharing through donation.
Let your kids know how it feels to help out others that are less fortunate or who need these things more than they do. Let kids understand the importance of charity. For example, kids can donate their toys, and some charities offer free donation pick-ups.
6. Make Good Communication
Meeting new people in the neighborhood and really gelling with the people in the new workplace, and making good connections are also important. For example, you can get to know other parents from your child's school or by joining PTA. Also, in the workplace, you can have conversations with your colleague, tell them you are new to this place and ask what places you can visit in the area.
7. Reduce Moving Cost
As a single parent, moving can be a great financial burden, so one really needs to save money whenever possible. As said before, plan the move also according to the time when the moving company's rate will be cheaper. Get free cardboard boxes from your local store, friends, and neighbors, or you can check online stores.
Take only things you need in the future, and move a few items that will reduce the moving bill. Then, find a good low-cost moving company that still offers good service. Even we at Cheap Interstate Removalists provide professional house removals service at a reasonable cost.
8. Take Help From Friends 
Moving house is in no way an easy task. Good money-saving techniques and managing the budget can bring down the cost. Also, you can reach out to friends instead of taking professional help to pack. After relocation, you can always throw a 'moving out' party to gather people to help you out with packing, cleaning, and loading your stuff into the truck or van. Honestly, people don't like to help, so at least if you turn it into a party, it will make it a fun time for everybody.
9. Stay Positive 
In between the hassle and stress of moving and packing, it is very important to stay positive. Moving out and managing all things from work to kids, as a single parent can be the toughest thing. Having a positive attitude will most likely be followed by your kids too. This can also teach your kids how to deal with changes in life and how to handle stress.
10. Leave It To The Pros
If all of this seems very overwhelming, then you can consider a good professional removalists company that can take care of everything from packing to moving, giving you enough time to take care of the other essential tasks like address change, kid's new school admission, etc. After all, being a single parent isn't easy, but by hiring a professional moving company like Cheap Interstate Removalists one can really take a break from this chaos.
Working for half a decade, our experience has benefited thousands of householders and professionals, making us the most commonly picked interstate removalists in Australia. We have expert house movers and packers who are experienced and trained enough to provide damage-free moving services at affordable rates.
So if you have any queries regarding anything in moving, you can contact us through

Mail at info@cheapinterstateremovalists.com.au

And call us on 0480 033 100.
Or you can also get a quote and get a free estimate for moving. So if you want to hire reliable and affordable removal services, contact us now.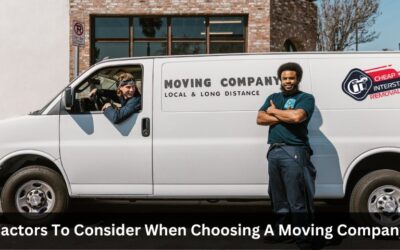 Moving might be a time- and energy-consuming task. One of the most critical decisions you'll make during your move is selecting the right moving company. With numerous options available, it's essential to consider several key factors to ensure a smooth and stress-free...
read more