Fragile removals are something that is important when you are shifting to a new house or new location. When you want to try DIY moving for your valuable and fragile items, they might get harmed while relocating from one place to another.
Fragile goods like antiques, mirrors, crockery, bathtubs, etc are very delicate and tough to move by yourself. Therefore it's better to choose the right removal company to relocate your fragile belongings safely to the destination place.
By using specific methods, professional removalists get your fragile items always secure. When it comes to packing up the delicate items while relocating for you.
Cheap Interstate Removalists in Australia is one of the best reputed and experienced removalists companies. Our staff is dedicated to making each customer removal process as stress-free as possible.
Expert removalists companies know how important it is for customers to make fragile items secure during a relocation process.
Whether you are shifting fine art, an antique or an instrument or something else, professional removalists can help you with that.
Relocation can be challenging to handle especially when you are moving fragile items by individuals who are moving for the first time.
Here in this section of the blog, we will provide you with knowledge and information about moving fragile safely short and long distances.
We have mentioned all the necessary steps for safe DIY fragile moving and the benefits of hiring a certified and expert moving company for your dearest fragile goods.
If you are going through a very low moving budget and can't afford any removalists, then follow these points to safeguard your fragile furniture and other delicate items. Otherwise, why should you book a team of removalists, here you will also get the answer to this question.
How To Move Fragile Items By Yourself?
Moving fragile goods and electronics is tough but with proper guidance and with the right steps you can easily move your delicate objects to the new location with zero damage. Here are the 5 easy steps which can help you a lot when moving house or office with lots of fragile items:
Sort The Goods Before Packing
Sorting is the first most important step towards a smooth removal journey. Before packing anything, you just need to sort everything according to their type, size and weight.
List all fragile items and separate them properly, so that nothing will be left in the old place or mixed with other items.
Use Good Quality Packing Supplies
The choice of packing material matters the most because the use of low-quality packing material leads to damage and breakage of fragile items.
Good quality packing material safeguards your fragile items and electronics from being damaged from the vibration, jerks and bumps during the transit. The most important materials for packing fragile are:
Small moving boxes for crockery and small antiques
Medium-sized moving boxes for household electronics like washing machine, fridge, and other gadgets
Large moving boxes for huge pieces of art and statues
Packaging tape
Packing Peanuts or crumpled paper
Markers and label chits
Packing paper or newspapers
Box cutters
Moving blankets or you can use old blankets and towels
Air pillows for extra protection during the move
Pack In The Right Way
After collecting all the necessary packing supplies, start packing your fragile goods as early as possible. And while packing the right techniques matters the most. Good packing is directly proportional to the safety of your fragile movement during the move.
Wrap the plates and glasswares with the old newspaper or packing paper and place them into the moving box with crumpled paper for extra cushioning.
Fill the gap with packing peanuts to avoid damage from jerks. Bubble wrap all the electronics before placing them into the moving box. Don't skim while using packing tape, secure every box from both sides properly.
Label The Moving Box
Labelling of moving boxes is necessary and helps you to recognize what you have kept inside the box. Label all the boxes in which you have packed fragile items.
You can use fragile items, handle them with care stickers to put on the moving as a person will handle those things with extra care and safety. This will be also helpful when you reach your new place and have to organize everything again.
Go Slow With Fragiles
Never do any rush if you are having many delicate goods to move. After packing and labelling steadily load all the fragile goods and moving boxes into the moving vehicle or truck.
If your fragile items are heavy to load then try to hire a man and van removal service for safe and effortless relocation.
Don't put any load on those moving boxes which contain breakables. Try to give extra cushioning around the electronic and delicate goods with the help of air pillows.
In this way, you can move your fragile items safely from one place to another. While moving your fragile and expensive goods, don't forget to buy insurance from any third party to protect the value of your items from any kind of damage.
DIY Fragile Items Relocation Is A Hectic Process
Moving can be both exciting and hectic, and moving fragile looks easy but it is not as it looks. It requires a lot of skills and techniques to make the relocation perfect and smooth. That is why most people look for a professional removal service to take some of the stress away from them.
And give them peace of mind from this stressful situation. Some items may be heavy, while others may be delicate. Because of this, it can be difficult to figure out how to move them all properly so that they get to your new destination without a scratch. By attempting this work on your own, sometimes the items can easily become damaged in transit.
Don't Attempt To Do It Yourself
Several people try to save money by relocating their fragile items themselves. They wonder how difficult it can really be, and decide to save a little money by taking care of it. But later on, most of these people end up regretting it.
Without the help of expert furniture removalists or fragile goods movers, you will be unable to move your fragile items without a single scratch. Professionals know exactly what to do to get it done fastly and easily.
Moving your delicate items might seem simple, but it can actually be far more difficult than you realize. And you certainly don't want to realize before it's too late.
While moving to the interstate with fragile items there are numerous things that could go wrong. That is why you should opt for the top professional mover like Cheap Interstate Removalists in Australia. Our removalists staff will treat each fragile item as if it were their own, so you can trust us.
Benefits Of Hiring Professional Fragile Items Removalists
Top-rated moving companies of Australia like Cheap Interstate Removalists can remove all burdens associated with moving fragile items for you.
Therefore you have to worry about arriving at your new place yourself. Their fragile movers will listen to your worries and will take anything you think might be best for your delicate items.
Professional movers' first priority is always to fulfil their client's requirements and to give them peace of mind, so this is what they always aim to achieve.
Expert removalists provide the following benefits when you decide to work with them for your fragile removals:
No extra charges – we are completely transparent
Reliable and Professional service
Cost-effective rates
A well trained, experienced staff of movers
The team of removalists are fully trained and insured and know exactly how to transfer items using the right packaging methods. They use the best packaging materials to protect belongings as they await the move, and will ensure that no harm comes to the items during relocating.
Cheap Interstate Removalists in Australia offer a complete range of specialized and fragile removal services at reasonable customer rates.
We have many trucks available depending on your requirements, plus a team of fully trained staff. Our service is reliable and professional, and we can also take care of the packaging and unpacking of your belongings.
We will use only the highest quality moving boxes to move your stuff and ensure they reach in the original form. Here are the other benefits that you will get from a certified and professional moving company in Australia. 
A Stress-Free Relocation Time
With the help of an expert fragile removals company like Cheap Interstate Removalists company, you can take the help you need and make your move much more enjoyable. You can assure a cost-effective package with us that suits your needs and budget.
With all these benefits, professional removalists will take care of the travel time and deliver your fragile and other items as soon as possible to your described location.
Maybe you have large or bulky, expensive, or fragile items that could be damaged if not protected and moved properly. Therefore, professional movers will take care of your goods as well as the delivery time.
Safe Relocation Across The State
Whether you're relocating or you are moving across the city, doing so with delicate things can be stressful. Moving to another state is more complex than a local relocation.
Items are generally more susceptible to damage because they are travelling farther and moving continuously on a truck.
But experienced removalists move many families across Australia every week and it can make it so much easier for you when you choose to relocate with them.
Cheap Interstate Removalists can also do packing, loading, inventory, storage, and unpack all goods. Our team specializes in packing and moving delicate items interstate.
All you have to do is relax and trust that your items are going to reach your new home, as planned. Our customers always praise us later, and many are surprised at how comfortable and hassle-free the experience really was.
We are not just saying – professional removalists can make this experience as easy as possible for you!
Professional Packers Here To Help You
Preparing to move all your items can be a tedious task because it is so huge. Packing all of your items and ready to pack and move can be a tedious task. It can take several weeks to sort and organize things into boxes.
It's not as simple as just throwing things in a box, because you need to think about how to pack items without damaging them.
Get rid of this hectic work you can contact the cheap and best removalists near you. The team of packers will even go as far as to properly label your boxes for you, as this is also important when moving items so that you know what and how things are to avoid damage and further expenses.
Optional Secure Storage Solutions
In the process of relocation, you may need to leave your old place as soon as possible. This could mean that all your items will require temporary storage while you wait to move to your new location.
As we all know that customers want a storage facility that is safe, free from dust or dirt. And a place that can assure that things will not get damaged. You don't have to worry, we are providing all these facilities to our customers and also providing
Insurance is important just in case anything should go wrong with your items. Moreover, when it's time to finally move into your new place, you can choose to have door-to-door delivery of your items. This makes the entire process even easier with no need to head to the storage facility to pick up your things.
Call Our Professional and Reliable Removals Today
If you are looking for a professional moving service that can help with all types of items from small items to large items. Then get in touch with Cheap Interstate Removalists today.
Our team is the best removalists service for relocating belongings from one destination to another with high attention to detail and customer service like no other movers in Australia.
It doesn't matter whether you are shifting across the state, relocating offices, or you simply need a few fragile items to move elsewhere – no job is too big or too small for our staff.
Our packing and relocating services are guaranteed and insured, so you can relax about your belongings when you choose to work with us. Don't try to do it yourself or work with a less experienced team – contact us today to find out more!
CALL ON: 0480033100 OR

EMAIL AT: info@cheapinterstateremovalists.com.au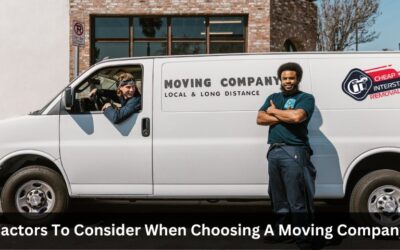 Moving might be a time- and energy-consuming task. One of the most critical decisions you'll make during your move is selecting the right moving company. With numerous options available, it's essential to consider several key factors to ensure a smooth and stress-free...
read more