Packing plays a vital role in the process of moving. It determines your whole moving journey. Therefore, it's essential to pay extra attention to the items you are packing, and not just that, but correctly packing your items is very important. It's essential to check if all moving boxes are packed correctly in such a way that they can be easily placed in the vehicle and won't get damaged during transit. Also, the unpacking process will be relatively easier if you pack your items correctly. Therefore, you need to be extra careful with it.
In case your boxes are wrongly packed, it will create additional issues. Therefore, you should recheck your moving boxes to see whether they are correctly packed or not, and if you find a mistake, then make it correct. 
If you are looking for Interstate Removalists, we are here to help you.
But how do you know whether you have packed your moving boxes correctly? 
Don't worry. We have the answer to this question in this blog. Here we have listed 5 criteria for analyzing if you have packed boxes correctly or incorrectly, which you should check before moving. So, read on the listed ways that will help you with knowing where your packing went wrong. 
Signs That You Packed Your Boxes Wrong 
Packing of your boxes can be wrong if you have done the same, which is listed below. However, when you are managing to move all by yourself, you are not aware of the ways to know that you packed the wrong boxes. Then this information is the ultimate thing you need. 
Here are listed five signs that make it clear that you have packed your moving boxes wrong. 
1. Moving Boxes Are Not Double Taped 
It's essential to double-tape your cardboard moving boxes. The boxes will not just keep your belongings intact but will also protect them. The moving distance could be full of jerks and uneven paths, and if your boxes are not double-taped, then the chances of your items getting out of the boxes are extremely high. In this case, your precious, fragile items might get damaged. Therefore, if your boxes are not double taped, then just know that you have packed them in the wrong way, and you need to work on it again to make it correct. 
2. Moving Boxes Are Extreme Heavy
If your packed moving boxes are too heavy to lift and you can carry them with great difficulty, then just remember you've packed your boxes in the wrong way! Your moving boxes mustn't be very heavy to carry. You should not make them too heavy by putting every possible item in them. It has to be planned carefully. Every box should hold only the required number of items, maintaining the safety of the items throughout the process. If you make your boxes too heavy, then while carrying, damage might occur. Therefore make your moving boxes light. 
3. Moving Boxes Are Not Labelled 
If you haven't labeled your items, just beware that you have packed your boxes wrong! Using labels for the moving boxes makes the process organized. In addition, you'll be clear about which box holds what, and accordingly, you can pay extra attention to the fragile and sensitive items. 
When you don't label the boxes, then the process becomes unorganized, and this way, there are also chances that your boxes holding sensitive items might be ignored as you are not aware which box holds what and which box should be given extra care because of this chances of occurring damage to your items increases. Therefore, labeling your moving boxes is essential.
4. Moving Boxes Are Bulging 
When your moving boxes are bulging, then just beware that you have packed your boxes wrong! You should not stuff too many items in the moving box because it can deform the shape of the box, making it difficult to lift or hold the box during relocation. Instead, you must increase the number of cardboard boxes if you have too many items to relocate, but don't overstuff your every moving box. Also, assess that your boxes don't carry unusable items. 
5. Not Wrapping Your Liquid Items Carefully 
It's essential that before putting each item, especially when packing liquid items or bottles into the moving box, it should be wrapped correctly in such a way that items are assured with double layer protection. Otherwise, it will take just a bump of the vehicle to get liquids to spill over if not packed correctly. Even if a single drop leaks from the packed liquid item, it will create great damage not just to the vehicle but also to the other moving boxes. Therefore if you haven't wrapped your items and liquids correctly, you have certainly packed your item wrong! In such a case, do pack it correctly.
Conclusion 
It's essential to wrap your items and pack your moving boxes correctly; otherwise, your whole moving journey will be more than a mess. Therefore above, we listed signs by which you can make out if you have packed your moving boxes wrong, and in that case, you can correct them and make your moving journey memorable for all the good reasons.
In case you don't have moving experience and it's your first time, then you should go with a professional moving company like Cheap Interstate Removalists in Australia. We are a reputed and experienced moving company, providing a wide range of moving and packing services within your budget. If you go with our professionals, the chances of making mistakes decreases as they are skilled and well-versed in packing different items and maintaining your safety.
So if you have any queries regarding anything in moving, you can contact us through

Mail at info@cheapinterstateremovalists.com.au

And call us on 0480 033 100.
Or you can also get a quote and get a free estimate for moving. So if you want to hire reliable and affordable moving services, contact us now.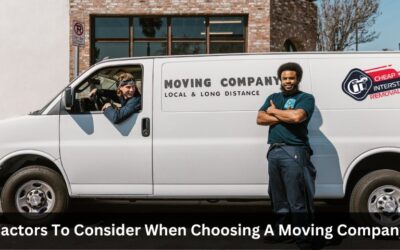 Moving might be a time- and energy-consuming task. One of the most critical decisions you'll make during your move is selecting the right moving company. With numerous options available, it's essential to consider several key factors to ensure a smooth and stress-free...
read more