Moving from one place to another or state to another is stressful. In the relocation process, there is a need to pack everything so that the item remains in its original condition and no harm occurs to you and the professionals involved. 
Though packing liquids is a tricky task, you need to be extra cautious when it is about packing liquids; they tend to get spilled over and make space messy if not appropriately sealed, and not just that even if liquids get spilled over it, they can damage other cardboard moving boxes which will create a lot of mess and will make your relocation process messy and challenging. 
Packing liquids alone will make the process more challenging because it requires proper planning and care. Usually, people need to be aware of the exact material and ways to pack it as it is a sensitive item; therefore, it's essential to be mindful of how to pack liquids. What should be used for filling liquids? Many top moving companies prefer plastic bags over cardboard to ensure safety. using cardboard, certainly, liquids will get leaked; therefore, using plastic gallon bags is safe. 
If you are looking for house removal services, we are here to help you.
How Can You Pack Liquids For Your Move?
Packing plays a vital role in the relocation process; if it's done correctly, it makes a move easy, but in case of some mistake in packing, it becomes a disaster. Unlike other luggage items, packing liquids is tricky and needs proper planning, material, and technique. 
Here are listed ways to pack liquids and make your moving process stress free. 
Carry Important Liquids Only
Carry only essential liquids and avoid unnecessary storage due to their sensitive nature. Drinks can't sustain even with single damage, which makes them highly risky to carry; therefore, you should avoid having all the liquids possible rather than choose which one is significant and take them; it'll be easy for you to carry out with fewer liquids. Your relocation process will get away quickly. Some essential fluids would be toiletries and kitchen-related beverages; you can't skip these, but if one is without use or any liquid expired, then there's no point in carrying it. Do exclude extra liquids.
Do Not Carry Hazardous Liquids 
Ensuring the safety of the luggage and people is the priority, and carrying hazardous liquids and other items could be dangerous to the health, lives, and others as they might cause something serious therefore don't count any flammable, dangerous liquids. Avoid packing anything that risks your safety; also, any illegal drink should not be loaded. If you move with a company or without, avoid carrying hazardous liquids. 
Use Correct Material For Packing
The material used in packing determines the quality of the filling. It's essential to use suitable materials for packing liquids due to their natural tendency to get leaked, causing damage to the space and other items. Plastic wrap and rubber bands are recommended and in addition, carrying garbage bags is essential because they provide space for storing garbage. If you are moving by yourself, then first do research regarding materials; else, in case of proceeding with the company, you won't have any issues as your liquids will be packed by experienced and skilled professionals.
Use Plastic Bins Over Cardboard 
Carrying liquids in plastic bins is safe, so even if liquids are leaked, the plastic bin will contain them, and other items and space will not be damaged. Therefore, top moving companies and professionals use it. Whereas carrying liquids in cardboard will be risky; if liquids are leaked, then cardboard doesn't hold the capacity to contain them, and indeed, it will damage other items and boxes of other things. Therefore, plastic bins are durable and maintain safety, which is essential while moving. 
Labeling Is The Key
Packing liquids should include securing the opening of each bottle, tightening the lids on each container, applying a piece of tape over the top to seal it, and keeping the bottles or containers containing liquid upright so that safety is maintained throughout. To prevent confusion, label the liquids, which will make a difference, and which bottle contains what, could be answered quickly; it will make the process easy and organized. Try and keep up with the critical points before you move. 
Hire The Best Moving Company 
Hiring the best-experienced company is essential as it is one of those factors which determines your whole relocation process. When you hire companies that provide you with packing, valet unpacking, move-in, move-out, and cleaning services automatically, your work becomes easy with the help of trained, equipped professionals; else in case of handling it all by yourself, things will be unorganized hence, hiring companies with various facilities works in your favor. 
Conclusion
Relocation is a challenging process; it consumes a lot of energy. Packaging goods, pieces of furniture, and other requirements is a task and additional stress to packing liquids. Precisely relocation is a stressful process, and managing all by yourself will be challenging, especially packing liquids; generally, people need to be aware of what materials should be used and how things must be executed. The answer to such questions is hiring the best mover company, which will make this process easy; they have skilled well-versed professionals; finding the best moving company is a challenging job; you need to check many points before hiring a mover company. 
Are you in need of the Best Removalists?
Cheap Interstate Removalists in Australia provide a wide range of services. We meet your high expectations in your budget. Our priority is to make our client's relocation process stress-free with our guaranteed safety and uncompromising quality of service. You can anytime contact cheap interstate removalists at. We are available 24×7. 
So if you have any queries regarding anything in moving, you can contact us through

Mail at info@cheapinterstateremovalists.com.au

And call us on 0480 033 100.
Or you can also get a quote and get a free estimate for moving. So if you want to hire reliable and affordable moving services, contact us now.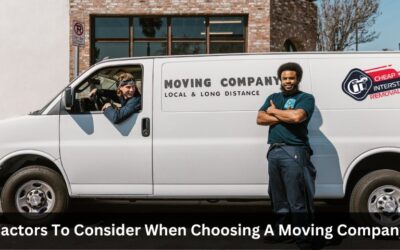 Moving might be a time- and energy-consuming task. One of the most critical decisions you'll make during your move is selecting the right moving company. With numerous options available, it's essential to consider several key factors to ensure a smooth and stress-free...
read more