So you know that the busiest season for moving is summer, in which you will have to pay the highest price for your moving. And you will not get your booking appointment that easily.
So if you are forethought to move or shift to your new house in the fall, then congratulations! Because you have chosen the most flexible time moving in terms of rates and movings.
You will get the best deals of all time while moving in the fall season, including lower prices, lower temps, and lower competition. All will work pretty well in your favour. You will get the best deal of all the season during autumn season.
But still, like other moving seasons, you need to get prepared for some unexpected changes during autumn season. This season often comes with some surprising advantages but will also bring some cons you need to prepare.
So in this blog, we will talk about the things that you should avoid while moving to a new place during the fall season.
Avoid Getting Deal In High Moving Cost
The fall season is said to be the most flexible and lucky season for the people because, in this season, you will get flexible moving rates.
But for those who don't know about this, you will have to get proper knowledge of price rates and other things while moving; otherwise, you will end up paying more cost as expected while moving.
So go through at least two or three moving companies, get quotes from them and then, after comparing and negotiating, get the best deal that you think will be better going to suit your needs.
Avoid Getting All Summer Clothing Along
Before the fall season, you will get through the summer season, people think that bringing summer season clothes will not make any difference, but it is not valid. The more things you bring along, the more it will add to your cost.
So the best you can do in this case is declutter them. Declutter all the summer clothes and lower down your luggage. This will lower your workload, and you will end up paying less in the end.
Do Not Neglect Storage Service
As you know, the fall season is a season of unexpected changes, and you don't know when a bright day changes into a heavy rainy day in no time.
So you need to look for a reliable storage service near you for any unexpected change. Because no one wants to pay the extra price for their luggage held in a truck in the mid-road because of unforeseen changes in the climate in your area. And storage service is also helpful for things you are not planning to use until next season.
Avoid Packing In Hurry
Almost every person makes a mistake that they don't think calmly about little things and take or do some things in a hurry.
If you think calmly, you can do some things smartly and save a lot of time and energy for later, including packing different materials and clothes accordingly.
Pack all clothes according to seasons and pack autumn season items like rain boots and raincoats, snow gear, umbrellas and snow-removal equipment differently in a place where you have easy access to them.
Avoid Putting Work For Later
It's a human tendency to work on an upcoming day or later. But while moving, you should avoid putting your essential works for the next day, including setting up your utilities in your new home.
Before shifting, make sure to set up all your essential utilities in your new home because in the rainy season, if it rains on your moving day, you will end up catching a cold at your new home because of your carelessness.
So try to do these essential things in advance so that when you enter your new home, it will be a warm welcome and not a cold one.
Avoid Leaving Your Luggage Unpacked
While moving in the fall season, you should avoid leaving your luggage or valuable unpacked or half packed. With unpacked, we mean to say that you should include using plastics in your packing to prevent your luggage from being wet.
If you pack your bags with an extra layer of plastic, it will save your luggage from damp and provide your bags with an extra layer of protection.
Avoid Leaving Your Pathways Uncleared
Everyone wants their old home and new home to be removed and cleaned when they enter it or leave it. And for that, you have to clear your pathways from water, leaf or any mud.
People think that removing the paths is a waste of time. Make sure that your tracks should be clear and clean. You can put doormats and carpets in your way so that your new home should get cleaned.
Conclusion
In conclusion, we can say that moving during the fall season is intelligent and flexible. You can get the best deal in this season. But do not forget to hire the best and proficient movers for your move.
And if you are looking for reliable movers in Australia, employ Cheap Interstate Removalists In Australia. We are a team of the best and cheap removalists in Australia and have worked in this field for many years.
You can contact us through

mail at info@cheapinterstateremovalists.com.au

and can also call us on 0480 033 100.

If you want to grab the best deal of the season, then get a quote now.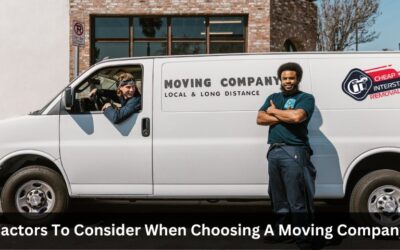 Moving might be a time- and energy-consuming task. One of the most critical decisions you'll make during your move is selecting the right moving company. With numerous options available, it's essential to consider several key factors to ensure a smooth and stress-free...
read more