Retiring is a new phase of life, and everyone looks forward to life after retirement. It's a big achievement, and everyone plans for an after-retirement life. Moving is one such big decision you will take after retirement. Most people prefer moving to a peaceful place after retiring, and some who were working away from home would like to move close to their family and friends. 
Simply put, there can be many reasons for moving after retirement, and there are a lot of pros and cons to this, depending upon your situation, so you need to be very clear if you want to move. One of the cons could be if you are moving away from friends and family, you can get homesick, but these are very individual-specific. 
So what about benefits? There are a lot of advantages too, and here in this blog, we have mentioned the top 5 benefits of moving after retirement. So keep reading!
If you are looking for house removal services we are here to help you.
1. Money Saver
Whenever you are moving after retirement, there are a lot of ways to save money and once you are retired, keeping expenses to a minimum makes sense as you would want the retirement fund to last. So moving to an affordable place, a place with a low cost of living, is a good decision that makes financial sense. 
The place you are moving to should have low housing rates. You'll pay less in smaller rural communities than in a city. You can choose an area you are moving to not only at a cheap housing rate but in terms of groceries, taxes, and activities. Another way to save money is to downsize your home as you won't need extra space anymore and make it smaller and more comfortable.
2. Closer To Family 
At a young age, people move out to cities that are far away from family because of career reasons, in search of a well-paying job, or to the city where they can get better opportunities in their line of work. So shifting back to my hometown is a great benefit of moving after retirement. 
Moving closer to the family is the priority of most retirees, as people like to spend time with their kids and grandkids. Also, you can save money if you move with your kids.
You don't necessarily need to move in with your child, and you can consider moving in close proximity to their place. And if you choose to live with your kids, assuming they don't mind, you may want to consider factors like their house size, family size, lifestyle, etc., and see for yourself if these are suitable for your post-retirement life.
However, the place of your family or the area may not satisfy factors like living cost and your lifestyle. Your family's cost of living may be more than you can afford, or their lifestyle may not fit your wants. For example, the environment in the house is such that you are not able to give time to your hobbies.
So before moving in with family, you should consider all these things too.
3. Choose Your Surroundings
People who move at an early age do it mostly because of work, meaning they have to live in a city or environment they may not like. They didn't choose the environment and surroundings they were living in. But after retirement, they would like to move to a place where they'll choose the surroundings, the neighborhoods, so this is a huge benefit that you can choose the place according to your climate preferences. People who were living in the cold or wintry can choose to move to a warmer place. So choose the place which has your ideal weather all year long.
4. More Hobbies To Enjoy 
When you retire, every day becomes a weekend, and it may seem like a long day without hobbies, so hobbies are important once you are retired. This is a great benefit when you move after retirement to select a place that is more suitable for your hobbies. Hobbies like gardening, enjoying some activity, or joining a club of your liking. 
Even if it is a small thing, you should do it to enjoy the fun time, or you want to start some other venture that you have always thought of, you can start a new thing in a new place. It's a new start after retirement and a whole new world to explore, so have fun in the new adventure.
5. Own Your Lifestyle Pattern
We think lifestyle includes everything we talked about. A place that includes everything you like to do, from the environment of the place to giving an opportunity to begin your new venture.
So if you have some specific preferences, for instance, you want a place with a great healthcare facility, want to live a rustic life in rural areas, or a city that's hugely into rugby, you should consider writing down your preferences in order to get the best place to spend your rest of the life.
If you don't have strong preferences about a place that you are moving to, you can skip the writing part. Instead, you can just have one or two things in your mind when choosing the place for relocation.
Conclusion
In conclusion, we can say many people do not prefer a change of location. But, it is worth it for the adventure. Moving after retirement from one place to another can be a great way to see life from another lens. You will meet new people with different experiences or different backgrounds, which can give you great pleasure and an experience of a lifetime.
Still, moving is already a tedious process, and at retirement age, packing and moving can be very difficult. So choosing an expert moving company which provides a great service at a low cost is a must.
We at Cheap Interstate Removalists in Australia are fully resourced with the latest tools and take full safety while lifting and loading to provide 100 % damage-free relocation. Our spacious storage houses are apt for your needs, assuring you the safest and most convenient shelter. Even for senior citizens' moves, we give special offers and discounts that help them to save a good amount of money.
So if you have any queries regarding anything in moving, you can contact us through

Mail at info@cheapinterstateremovalists.com.au

And call us on 0480 033 100.
Or you can also get a quote and get a free estimate for moving. So if you want to hire reliable and affordable removal services, contact us now.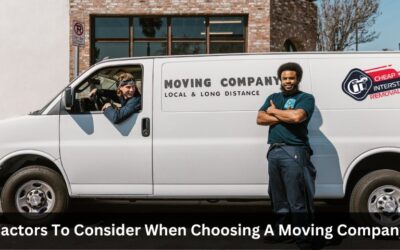 Moving might be a time- and energy-consuming task. One of the most critical decisions you'll make during your move is selecting the right moving company. With numerous options available, it's essential to consider several key factors to ensure a smooth and stress-free...
read more