Maintaining high levels of cleanliness in your house is extremely important. No one wants to live in a dusty and unhygienic house. But house cleaning can be time-consuming and tiring.
To help the cause of house cleaning for people, there are many professional cleaning and moving companies in Australia which provide efficient and effective house cleaning services throughout Australia.
But still many people like to clean their premises on their own and feel no professional could clean their goods in the way they do it.
If you keep your house clean and hygienic, as it not only promotes good health but also gives peace of mind and creates a positive environment.
Sometimes house cleaning consumes lots of your valuable time. Therefore, hiring a professional team of cleaners is the best solution to live in a clean home without sacrificing your valuable time.
Whether it's vacuuming, sweeping, dusting, doing laundry, changing bed sheets, cleaning carpets, or the hundreds of things that are on your cleaning to-do list; the experienced team of house cleaners are here to get the job done right.
Professional and certified house cleaning services companies assure no breakage and theft of any valuable items of their clients.
Many people have a hectic schedule, they do not have much time for housekeeping, so they can consider hiring professionals who offer house cleaning services. Even before and after moving or shifting your house from one place to another, cleaning becomes an important task.
And doing this after the long tiring journey of house removal is tough. Therefore, hiring professionals in this situation is efficient and necessary.
Here in this blog, you will see a good comparison between DIY house cleaning and professional cleaning services. So let's start!
Pros And Cons Of DIY House Cleaning
House cleaning is tedious but many psychologists consider this as a therapeutic task. After all, cleaning and organization of your home by yourself gives you a pleasurable feeling of "yes you did it".
But before making any decision, you should check both sides of DIY housing cleaning. Here the pros and cons of doing your own cleaning include the following:
Pros Of DIY House Cleaning:
If you have enough time and mostly spare your time at home, then doing house cleaning on your own is a good idea and pleasurable too.
By doing it yourself, you can save a lot of money because hiring professional cleaning services every day or weekly can cost you more and not manageable every time.
You can pay better attention to your goods and house and take care of your belongings properly.
You don't need to coordinate with the cleaning team, you are free to do your house cleaning whenever you want.
When you do it yourself, all the control of cleaning and use of cleaning products and equipment is in your hands. Don't need to work according to other's plans. You can clean your home according to your convenience.
There will be no management duty involved when you choose DIY house cleaning.
Cons Of DIY House Cleaning:
If you are having a huge home or 3-4 bedroom apartment, then cleaning the complete house on your own is not a good idea. This will only give you back pain and fatigue.
You will bear the extra cost of purchasing good quality cleaning and disinfecting products that are used by professional cleaning service providers. Buying all the necessary cleaning products and equipment can cost more.
You have to take all the physical pain on your own. Sometimes whether you want to clean or not, you need to do it all.
The serious disadvantage of DIY is not having expert knowledge about cleaning products, tools, and tricks to clean a wide variety of surfaces.
Cleaning by yourself might take much time as compared to hiring professional cleaning staff. If there is a shortage of time, do not try to clean your house yourself.
Benefits of Hiring Professional House Cleaners
Hiring a cleaning service to clean your house can make your life easier and relieve you of daily activity. You do not have to bother to take out some time to work during your busy day.
Once you entrust the cleaning responsibilities to a cleaning service, there is no need to timely dust, wash, or vacuum. There are various benefits of hiring professional cleaners for your house cleaning which are given as follow:
One of the advantages of hiring professional cleaners is the convenience associated with using the services. These cleaners will arrive at your home at a specified time.
Professional cleaners also have the experience to do the job properly. They know which products and techniques to use in order to achieve the best possible outcome.
If you hire professional house cleaners, you can be sure that all areas of your house will get the attention they need to shine and sparkle.
Hiring professional cleaners will also help you to save time. You can spend that time doing other important tasks such as spending time with your family or volunteering.
A professional house cleaner can deep clean your bathroom and kitchen and get rid of harmful bacteria. They can use the right tools such as long dusters, sponges, and mops to reach tough areas.
When a professional service cleans your bathroom, they wipe your faucet and sink and disinfect your toilet. They thoroughly disinfect your counters and your bathtub.
After cleaning they sanitize your complete premises which ensures the complete cleaning of your home.
6 Reasons – Why Do People Choose Professional House Cleaning Services?
Nowadays, whether people are having enough time or not, they prefer to hire a house or commercial cleaning companies to make their environment clean and hygienic.
The increase in germs and viruses in the environment has increased the need for deep cleaning and sanitization which is possible by experienced and professional cleaners. Apart from this, Here are some major reasons behind hiring a house cleaning company:
Hygiene: If your house is not cleaned regularly, it can give rise to a lot of health problems. In unclean places, there are lots of bacteria and germs everywhere which can spread some diseases.
Professional cleaners are also trained in good hygiene practices and will keep the offices germ-free.
Quick And Affordable: Cleaning the entire house requires a lot of time. hiring professional cleaners would be more beneficial because they would be more efficient and would spend proper time and energy on the cleaning.
Also, you will not have to buy any of the cleaning products and cleaning equipment because the professionals bring their own products.
Reliability: Professional cleaning companies have sufficient employees for services and they are quite trustworthy. They make sure that they do not forget the scheduled date and time.
They will arrive on time and do all the cleaning as described by the client without harming or damaging anything.
Well-Trained Cleaning Team: Professionally trained and expert cleaners are an integral part of cleaning service providers. They are trained in the proper way to clean, dust, and sanitize your house space.
Insured Service: Reputed cleaning service providers like Cheap Interstate Removalists assure their customers about breakage and theft of any goods.
They provide full insurance cover on any damage or loss done by them. If a customer finds any problem or damage then the company will compensate or recover it for them.
Flexible Timing: They are flexible on their work timing according to the customer's schedule and preferences. You can book a house cleaning service whenever you require and according to your convenience.
A customer can book a number of cleaners for daily, weekly and monthly cleaning. You can even customize it with your moving plan too.
Cheap Interstate Removalists – The Moving And Cleaning Company
Cheap Interstate Removalists have a wide range of cleaning services at cheap rates that attract many people to do the cleaning of their house through them. Furthermore, we aim to provide high-quality work and as a result to win the trust of our customers.
We train our employees in such a way that they can handle any difficult task efficiently and proficiently. In addition, we have a dedicated team of experienced professionals who efficiently provide services for our current customers.
Cheap Interstate Removalists works as a unit and uses the latest and advanced cleaning techniques that ensure that you get a deep home clean.
We give our customers complete peace of mind while working. We have been providing cleaning services in Australia for over a significant time and have been successful in building good relations with our customers.
Throughout the cleaning process, we are maintaining cleanliness using all highly developed equipment supported by advanced technologies.
We take care to remove dust and try to reduce the spread of any disease or infection. We concrete on offering cleaning services to customers on a daily, weekly, and monthly basis.
So what are you waiting for? Take advantage of our house cleaning services in Australia and make your property a great place to stay.
After all, Cheap Interstate Removalists' aim is to provide you with a clean environment. Contact us to avail excellent deep cleaning services in Australia at an affordable price.
For more information,
CALL ON: 0480033100 OR

EMAIL AT: info@cheapinterstateremovalists.com.au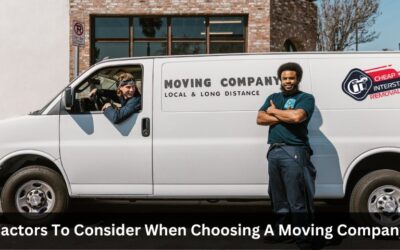 Moving might be a time- and energy-consuming task. One of the most critical decisions you'll make during your move is selecting the right moving company. With numerous options available, it's essential to consider several key factors to ensure a smooth and stress-free...
read more