The office relocation process demands not only a change of place but also a quick physical setup of whatever you are relocating. The whole appearance changes due to all obvious reasons. So, work doesn't end here. In fact, with office relocation, a fresh journey begins to set up and create your office and a good environment. 
It's essential to quickly get your office set up on point, and not only that, it's even more essential to create a good office environment. Hiring skilled professionals to make the exterior and interior of the office attractive and some additional inputs from your side can make your new office's environment good and productive for everyone.
Here in this blog, we have suggested a few effective tips to help you make the office environment good after relocation. So read on to…
If you are looking for house removal services, we are here to help you.
Tips To Create A Good Office Environment After Relocation 
With relocation, you get the opportunity to start again and give a new look and feel to the office. But with a lot of confusion, stress, and exhaustion from office relocation, you or your employees may find difficulty in settling down with this whole new environment and other related criteria. So, making everyone feel good in the new environment is essential for better results in the business.
Here are some essential points you should keep in your mind while creating a good office environment after relocation: 
1. Get New & Comfortable Furniture 
Furniture adds to not only your decor but also the comfort of workers there. For a good office environment, it's essential to make your employees comfortable. Therefore, select furniture that gives a great look to your office and, at the same time, is comfortable for your employees and clients visiting there. Tables, chairs, sofas, and other related furniture should be chosen such that it makes the space go correctly and suits the overall interior of the office.
2. Take Advice From Your Employees
You should take advice and suggestions from your employees and other people related to your office. Apart from the fact that you will have a diverse thought process the whole collaboration will work perfectly. Also this way the bond between people will eventually grow which will contribute to making a productive office environment. Moreover, this way, you can add many new things to your basic professional work. 
3. Place Indoor Plants 
Natural plants will not only add to your office's decor but also make the environment fresh and positive. People often go with artificial plants to get attractive decor, but eventually, it gives an artificial look. But, placing natural plants in the office will create an authentic look and make the environment fresh, healthy, and organic. Therefore, you must prefer natural plants above any other artificial decor. 
4. Make Your Space Clutter Free
When we consider a good office environment, it's essential to ensure that the space is clutter-free by minimizing the use of paper and wires in the office. These are a few ways that will ensure that your office is clutter-free and a good environment is maintained.
5. Encourage Everyone To Maintain Cleanliness 
They say, "cleanliness is next to godliness" maintaining hygiene is a basic yet vital step. Your working space must be clean, and it's not any one person's duty, so you need to encourage everyone to maintain cleanliness in the office. It's everybody's responsibility to keep the space clean from their hands and contribute to creating a good work environment for everyone. 
Some simple ways to ensure cleanliness would be using dustbins, ensuring everyday mopping is done, using washrooms responsibly, and employees should maintain their respective desks properly. 
6. Use Excellent Aroma
The aroma creates a great effect on the environment. A space with a good smell will always have an edge. So, it's essential to pay attention to it. Imagine entering an office with the best exterior and interiors, but it smells filthy. Therefore you should use good aromas in your office's different sections, which will work like magic. It will certainly create a good environment. 
7. Communicate With Your Employees
The office relocation process is complex. It demands not only a complete change of environment but also due to relocation work might get piled up, leaving many worries in your employee's minds. Therefore, it's essential to have a conversation with employees. This will create a good reliable working bond and will contribute to making the new office environment good. 
8. Organize A Small Office Party After Relocation
Moving an office is a huge achievement. Many departments of your office or business have to work together to make it done successfully. Moreover, all the employees have also given their maximum to keep things running smoothly. And many of them had to move away from their families. So, to cheer up everyone's mood and enjoy the success of office relocation, organizing an office party will be a great way to rejoice and create a healthy and happy environment after the office relocation.
Bonus Tips: Hire A Professional Moving And Cleaning Company 
The relocation process is a difficult one, and managing all by yourself might create a lot of mess; therefore, hiring a good mover company will surely reduce the stress. You should beforehand check about the moving company's services and go with the company which provides you with facilities like unpacking, cleaning, and organizing. 
With the best mover company, surely you will experience stress-free moves and feel delighted with their after-move services. Therefore, choose professionals to help you out in each situation.
Conclusion
Environment plays a vital role. When you work in a good environment, you are capable of focusing clearly with a clear and positive mind. And after relocation, creating a good office environment is not only about the physical appearance of your office but other intrinsic factors that can impact the productivity of your workplace. So, consider all these given tips to make your professional space perfect for everyone.
Moreover, if you are hunting for reputed office removalists in Australia, contact Cheap Interstate Removalists. We have 10+ years of experience in moving and packing offices, small or big, and have satisfied more than 1200+ office associates and businesses with our professional office removal services.
So if you have any queries regarding anything in moving, you can contact us through

Mail at info@cheapinterstateremovalists.com.au

And call us on 0480 033 100.
Or you can also get a quote and get a free estimate for moving. So if you want to hire reliable and affordable removal services, contact us now.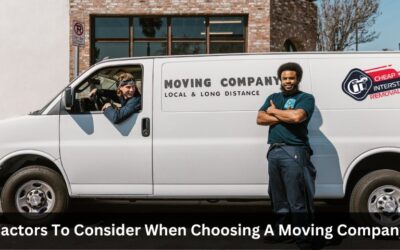 Moving might be a time- and energy-consuming task. One of the most critical decisions you'll make during your move is selecting the right moving company. With numerous options available, it's essential to consider several key factors to ensure a smooth and stress-free...
read more