Maintenance and care of your pool table are essential if you want it to be in good condition. Especially when you are moving your house from one place to another, you need to take care of your heavy but delicate pool table during the complete relocation process. The biggest mistake you can make with a pool table is to lift it or move it on your own.
If the pool table is moved improperly, this slate can crack into several pieces and may need to be replaced due to this it may consume your valuable time and lots of money.
Therefore it's better to hire professional Pool Table Removalists to move your pool table and you can also ensure that your pool table remains in the best possible way.
However, if you still want to try to move your pool table on your own, then you should know some specific pool table removal steps.
These steps must be followed in the described manner with no mistakes to safeguard and relocate the pool table securely to the destination place. Here we have mentioned all the essential steps to move a pool table safely and easily.
How To Move A Pool Table In Just 7 Easy Steps?
Pool tables are an expensive investment that a person makes to make the appearance of his home or any commercial space more attractive and enjoyable.
But it is very tough to handle and move when it comes to relocating it from one place to another. Moving a pool table becomes more stressful especially when you have decided to move it by yourself.
As trusted pool table removalists of Australia, Cheap Interstate Removalists always suggest you hire professional pool table removalists for a damage-free and smooth relocation. If this is not possible for you, then precisely go through these 7 easy steps to make your pool table move safe and secure.
1. Gather The Required Equipment And Manpower
Moving a pool table is quite difficult for an inexperienced person due to its weight, size and breakable nature. Therefore, you need to gather a good team of strong men or women who can handle and carry the pool table easily and secure it from falling during the loading process.
Good manpower is nothing without the necessary tools for dismantling and moving the pool table. Collect a complete set of toolkits which consists of the safety gloves, glasses, power drill, screwdriver, staples removers, etc. To ensure more safety try to ask some of your friends who have moved a pool table at least once.
2. Remove The Pockets Of The Pool Table
Pockets of the pool table are not so difficult to remove. You just have to lie under the pool table and remove the pocket by using the screwdriver or staple remover, from whatever the pockets are attached with the pool table.
Pockets of the pool table are tearable, therefore, be steady and smooth while removing it. Wear your safety gloves to protect yourself from injuries throughout the removal process. Carefully detach all the pockets and keep them in a sealable bag.
3. Remove The Rails Of The Pool Table
To remove the rails you need to flip your pool table and by the use of a screwdriver, unscrew all the bolts to detach the rails of the pool table and gently pull out or slide out the rails. If the rails are connected, then removal of the rails becomes more tricky.
Therefore, check everything before you start dismantling the rails. Place all the nuts and bolts from which the rails were connected into a labelled and sealable bag and pack the rails of the pool table with good quality moving blankets and bubble wraps.
4. Remove The Felt Of the Pool Table
Felt is that cloth that is placed upon the pool table. It is highly delicate, therefore you have to go very patiently with it when moving a pool table. Any aggressive move can harm feelings. Before removing it check whether your felt is attached with staples or glue.
If it is attached to the pool table with glue, then gently pull the felt towards your side and keep it in a safe place. If it is stapled, then use the staple remover to pull out all the staples and then place them aside. Felt is the important part of the pool table, go slow and steady with this.
5. Detach The Slate Of The Pool Table
Here comes the heavy part of DIY pool table removal. A slate of the pool table is very heavy and if you damage it, then your pool table will be of no use.
Unscrew all the bolts and screws safely and keep them aside into a pre-labelled sealable bag. Pack the slate properly with good quality packing material and moving blankets and secure it properly with tape.
6. Detach The Legs Of The Pool Table
Nowadays the pool table legs are designed for relocation purposes. Check the type of your pool table whether the legs are detachable or not. If not, then pack it safely.
And if the legs are designed to detach, then remove the bolts and nuts from the legs that are attached to the frame. Protect the legs from any scratches by using bubble wraps or stretch wraps.
7. Pack And Load Your Pool Table Into The Truck
After complete dismantling pack all the pieces of the pool table safely with industrial bubble wrap, moving blankets, stretch wraps, tape etc.
Don't use poor quality packing supplies to save some pennies, it will cost you more after the removal. Coordinate with your team and load the pool table carefully into the truck and place air pillows to protect the pool table from any damage during the transit.
These all steps sound easy but are still complex and tough for those who don't have any experience of moving heavy furniture or a pool table. But by analysing the steps properly you can easily move your pool table.
If you still feel this job of pool table removal is tricky, then we recommend hiring professional pool table removalists for the safe and hassle-free relocation of your pool table.
Few Tips On How To Keep A Pool Table Safe And Long-Lasting
If you maintain your pool table in good condition then it will last for many years and relocation doesn't affect anything. Though as we all know that pool tables are constructed from strong wood and materials. Always remember to protect your pool table including the surface, pockets, and rails from possible damages.
Here are some tips to maintain your pool table properly:
A Cloth Cover Is A Must To Protect The Pool Table From Dust – A pool table cloth is essential that covers the slate's surface when not in use; Therefore only several owners do so. Covering the table is necessary if you don't it might get dirty but also ruin the table surface and its polish.
No Drinks Near Your Pool Table – Always Keep drinks or moisture containing things away from the table as spilled drinks over the table could spoil the wood and the table surface. So, therefore, you must not allow liquid near the table.
Never Place Your Pool Table In Direct Sunlight – Whether you use a cover or not, make sure that the pool table is not near to the windows as the felt of the pool table is sensitive to sunlight and it begins to dull and deteriorate when the sun's rays come in direct contact. Therefore it's better to stay away from your pool table through sunlight to stay safe and secure.
Never Sit On The Pool Table – No doubt your pool table is strong but if you sit on the table it can eventually break the seal between the rails and cushions, resulting in dead cushions that produce a no-ball response.
Never Move On Your Own Without Proper Guidance – Don't move your heavy and delicate pool table with the proper knowledge and tools. If you need to move your table, then you must contact a professional pool table removalists company.
Never Use Harsh Cleaners Or Chemicals To Clean Your Pool Table – Use only a cleaner that says it is fitted explicitly for pool tables. Don't use carpet cleaners and other stain removers to clean your pool table, it can damage the pool table harshly. Consult the professional movers or hire the best cleaning service for the proper cleaning of your pool table.
Why Is It Best To Choose Expert Pool Table Removalists? 
A pool table is one of the heaviest items and you cannot lift on your own, some weighing up to 1,000 pounds. Therefore, shifting them from one place to another is a tedious process.
If you are planning to move your pool table, then the best option is to hire professional pool table removalists. People feel moving with the help of the removalists company is expensive but our Cheap Interstate Removalists team provides these services at affordable and reasonable prices that everyone can avail of. Moving a pool table is not an easy task and it requires knowledge, skill, and most importantly, patience.
Here are few things you must know about the need for pool table movers for safe removal:
Pool Table Removalists Have Great Experience In The Pool Table Dismantling – You cannot lift your pool table and move it somewhere without anyone's help. Expert pool table movers know very well how to move a pool table safely and securely. They will disassemble the parts first and also remove the pockets, rails, felt, and base. Then separate the frame from the legs. And also, keep all the screws and bolts securely as this would require them at the time to reassemble the pool table. Top removalists companies have years of experience in moving and disassembling the pool table.
Pool Table Removalists Provide Their Vehicle For Moving – For moving a pool table from one place to another, you require a truck. If you want to move on your own, this process may cause damage to yourself. But by booking professional movers like Cheap Interstate Removalists in Australia, you will be offered with best man and van moving services along with the pool table removal services at reasonable prices.
Professional Pool Table Removalists Know The Right Strategy – You cannot move the parts of your pool table from your house to the truck all by yourself. You will need help. Get experts to help you out so that the activity is carried out seamlessly. However, if the move involves complex routes such as narrow ladders, it is best to seek the help of professionals.
Pool Table Removalists Cover And Wrap All The Parts Of The Pool Table Efficiently –  While Relocating your pool table from one location to another. The pool table Removalists properly wrap each part of your pool table before they move them to your new house. They use moving blankets or bubble wrap for this and pay special attention to the slates because these are heavy and more prone to damage. After loading into the truck, drive slowly so that the risk of damage is further minimized. Doing these few things will ensure that your pool table is safely transported to its destination, there will be no harm.
The Bottom Line
The shifting of a pool table process is one of the stressful tasks as it takes more time and effort. But with the professional removalists tips and services, you can handle this task easily and fulfil your needs and requirements of relocation.
Cheap Interstate Removalists experts have years of experience in moving service. Arranging a pool table and its transportation over a long distance is another concern for pool table owners. Cheap Interstate Removalists –  A Professional Moving Company, you can rest assured that your pool table is in the safe hands of the experts with the know-how.
We are the long-distance pool table movers that aim to make your pool table removals safe and damage-free in Australia. Our experience, skills, and efficient approach have led us to become established and trusted removalists throughout Australia with a reputation for friendly, polite, professional pool table movers.
This is why we work hard to ensure that our customers receive an excellent quality of service that continues to build our reputation time and time again.
For more information or to connect with our customer support for free and obligation free moving quotes, just call or email us anytime you require.
CALL ON: 0480033100 OR

EMAIL AT: info@cheapinterstateremovalists.com.au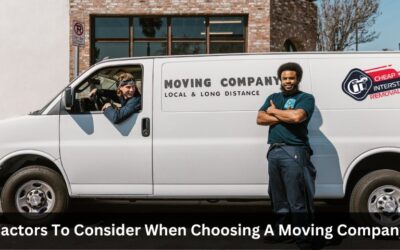 Moving might be a time- and energy-consuming task. One of the most critical decisions you'll make during your move is selecting the right moving company. With numerous options available, it's essential to consider several key factors to ensure a smooth and stress-free...
read more