The thought of house removal is always an emotional event. It is a strenuous, time-consuming, and responsible job. It may take more than one person or a group of people to start and finish the house relocation process.
However, with the experts involved, the same process can be quick, easy, and of course, stress-free. "Cheap Interstate Removalists" understand the needs of moving houses and we take every step to make your move smooth and timely.
We aim to make house relocation easiest and effortless for everyone. Our house movers and packers in Australia are trained and skilled movers and packers with good experience in studio apartments, one-bedroom apartments, two-bedroom flats, and small and large villas in Australia.
But many people contact removal company to book house removalists only for the loading and moving process. They pack the household and electronics by themselves to cut down some cost and save money.
So, before the day of your house move, we will tell you how to prepare and pack for the day of the move, tips to work quickly and safely to assemble and pack your furniture and other goods like clothes, cutlery, frames, wall hangings, etc. Let's get started!
How To Pack Household Items Efficiently?
Packing is the most difficult task, as our house contains many different items, some of them are fragile, some are heavy, and some are delicate and heavy both. Because of this diversity in household items, packing becomes a difficult task for many of us.
But by hiring professional house removalists in Australia, you can save yourself from this job of packing. Besides this, the other option is to do it yourself by taking some guidance from the professionals. Here are the series of steps and tips by the experts to pack things efficiently:
Start Packing As Early As Possible
It is often difficult for you to finish the entire packing process within your required time frame. Depending on the size of your home, you may need a week, a month more than a month to fully assemble all your belongings for the house relocation.
So the first thing you need to do is to start the packing process as early as possible. Plan your moving date and set a period to pack everything into that defined time of safe and on-time removal. The earlier you start, the earlier you finish.
Sort And Discard The Unwanted Things
To enable you to start the packing process early, you have to start with the items you need least in your home. To avoid going back and forth with the packing process, you start with items that you don't use daily. Dispose of all the unnecessary and broken goods in your house.
All these things will just take up space in the truck and nothing else. So it is better to discard these things, if anything is in good condition but you are not using it, then you can gift, donate or sell it to any person.
Pack Your Items With Good Quality Packing Material
Never compromise on the quality of packing supplies because many moving services providers refuse to transport badly or cheaply packed goods.
Some companies move pre-packed items but don't give any insurance coverage on them. Therefore it is good to use the best quality packing material, after all, it is about moving your valuable items safely.
There are many types of packing supplies, but the most necessary one's are bubble wraps, stretch wraps, crumpled paper, old newspaper, moving blankets, waterproof markers, packing tape, packing peanuts, air pillows, etc. Use these things to pack all your house furniture, antiques and electronics.
Fill Empty Gaps Inside The Moving Box
When you have packed your belongings inside a moving box and can still see empty gaps, you are advised to fill them with old rags, use new paper or crumpled paper. This will help the item fit tightly inside and prevent it from wavering inside the box during transportation.
Label Your Boxes Correctly
This is the most important aspect of your packaging. After packing every box, write the contents on the box using a waterproof marker.
It is best when you write on the edges of boxes instead of the top for easy recognition when stacked. Use different bright colours and dedicate each colour to a room for easy identification, when you unpack in your new location.
Always Place Heavier Boxes Below Lighter Boxes
Always remember to place heavy boxes below lightweight boxes. This will ensure that heavy items in heavier boxes do not crush items in lighter boxes.
You can do this while moving furniture, machinery, household appliances, and other heavy items. Keep all electronics on one side of the truck and fragile items on the other side of the truck. Place air pillows between the gap into the truck to provide extra cushioning and safeguard the goods from damage.
Remember These Packing Tips During House Relocation
Disassemble your furniture and other heavier items like bed, wardrobe, piano, pool table or billiard table before packing. Disassembling makes the packaging of heavy goods easier.
Empty your wardrobe and drawers before packing and moving. Because packing or moving with goods inside the drawers make it heavy and dangerous to move.
Secure both sides of the moving box with lots of packing tape. It will assure you no opening or damages of the item inside the box.
If you are moving your plant with yourself, then do not water them a day before moving. Water makes the pot heavy to lift.
Keep your pet in their cage or pet house.
Stack the similar size box, or go in descending order from bottom to top and secure everything from moving straps.
Use the original boxes for the packaging of electronics if possible, otherwise purchase industrial cardboard boxes to pack them.
Mark "fragile or handle with care" on the boxes which contain fragile goods. By marking this the house removalists will pay more attention at the time of loading.
Last but most important one, don't put your valuable documents, credentials and jewellery into the moving truck. Pack all the expensive things with utmost care and safely carry it into your car.
Hire The Expert Packers And Movers
If you don't feel right to pack your things on your own, then hire professional packers and movers for the easy and reliable relocation of your house in a very short time.
To relieve you of all your house moving troubles, house removalists take care of the entire process. From packing the goods and loading them in the truck, transporting, and unloading to the respective destination, we will do everything for you. And will monitor the entire process with its professional's team.
It is always advisable to hire professional home movers with enough experience and equipment to move your belongings.
Cheap Interstate Removalists is also one of the best house movers throughout Australia, who can effectively handle your moving process and also offers comprehensive removal insurance cover to provide you with maximum satisfaction.
Conclusion
House relocation can be a hectic activity especially if you are moving in a short period and you don't know how to get it right. There are a lot of tasks that must go right for you to relocate your household goods safely and smoothly.
Our team does everything from arranging from wrapping materials to finding workers, finding a removal truck or van, loading, unloading, insurance, and so on, there is so much to handle, and handling it on its own can easily become a frustrating case.
Cheap Interstate Removalists, move house with great accuracy and planning and prepare you to work together to ensure a very safe and secure moving experience.
For more information contact us and get obligations free moving quotes.
CALL ON: 0480033100 OR

EMAIL AT: info@cheapinterstateremovalists.com.au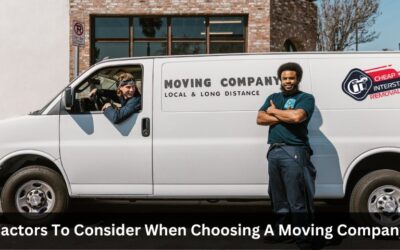 Moving might be a time- and energy-consuming task. One of the most critical decisions you'll make during your move is selecting the right moving company. With numerous options available, it's essential to consider several key factors to ensure a smooth and stress-free...
read more