Furniture is one utility good that can be very helpful in addressing multiple tasks at a time. Sleeping, reading, eating, and playing are some of the benefits of having a good set of furniture.
A pool table is also a part of your furniture asset which you often use to play with your friends or other persons related to your life.
The pool table is a heavy yet expensive structure made of oak, mahogany, and maple. The style and class a pool table brought to your room is something else.
This is the reason for being the best pool table removalists in Australia is that we understand your product and are always ready to provide an affordable and reliable billiard table shifting process.
But do you ever think about how you are going to relocate it from one place to another without getting any hassle?
We know nobody goes that way. That is why we are here to give you a suitable service experience as per your needs.
Call Professionals Pool Table Removalists
Years of Experience in pool table removal brought us to this success. Cheap Interstate Removalists encompasses all the guidelines associated and provided by the prominent international associations for the moving industry.
These bodies help protect the customer, support border regulations, and create better outcomes for the customers as well as movers.
We ensure high-quality service comes under your budget where you never have to compromise with it. We provide free moving quotes and pre-move surveys for better understanding of customer's relocation needs.
Removing your pool table has never been so easy because we have a team of hand-picked workers, who know-how work has to be done.
There is a process behind the splendid work of our team of pool table removals. Through which they provide an expectation driven service.
Process of Our Pool Table Movers Team
Space Evaluation
Space in which your pool table is placed. Our team of Cheap Interstate Removalists rightfully picked up the circumference of the target place and knew in which direction they have to move your pool table to get it out of that room.
Enlisting the properties of a pool table
There are many types of pool tables.
General Size of pool tables
Standard Table- Size- 8ft

Large table- Size- 9ft

Bar Table- Size- 7ft
General Type of pool tables
Modern table

Industrial table

Traditional table
Each of the tables requires special attention to shift because of the materials they are made up of. You just cannot move all of them using the same moving technique. That is where knowledge and experience work together.
Parts of a pool table that need to be disassembled before moving
Pool tables consist of many parts and Each one of them plays its role in preventing any roughness in the game. First, let's talk about the first entry here.
The slate of a pool table
The slate of a pool table is a playing ground for a pool made of different types of minerals. The flat polished surface decides the accuracy of how smooth the table is.
Legs of the table
The most commonly sized billboard table consists of 8 legs. Which provides stable support to the table and elevates the play.
A frame of the table
The frame of a table provides direct support to the slate and prevents it from cracking.
Cloth of the table
The cloth of the table covers the surface of the slate, allowing a long-lasting smooth play to the players.
Cushions
It is the rubber protection, covering the inside rails of the pool table.
Rails
Made out of strong wood. The Rails are directly attached to the cushions of the pool table.
Other accessories include pool balls, pool cues, and a rack that completes the set of a pool table. Our team of billiard table removals ensures the safety of each part of your pool table during the shifting process.
Disassembling of the pool table by our team of pool table removalists in Australia.
The hard part of a pool table removal is to relocate it as a whole. Which is very stressful and difficult in general. The job of our pool table movers is to take your pool table apart to make the removal easy.
The slate, rails, felt and legs are taken apart piece by piece in the most delicate way so that nothing gets damaged.
Right removal Van or Truck Hire for easy removal
After disassembling, our team will wrap up the parts of the pool table and store them in the removal van of your choice for further moving process.
Our company has a wide variety of moving vans and trucks to fulfill your requirement on any scale. We offer best backloading services in Australia for easy pick-ups and delivery of the customer goods at cheapest rates.
Cost-effective process of Our team
Most people think that the quotes of professional moving companies are expensive. But that's not what our name suggests. Customer orientation is the primary objective of our team of pool table removalists. Cheap Interstate Removalists takes care of your item as well as the budget attached to it.
The Best Pool Table Movers
We assure you of the safety and security of your pool table under the same statement. The cost is not going to make any kind of trouble for you if you join our hands and make your moving experience one of a kind.
The way our team executes its work assures our customers the best of service they have ever received. Not lacking in performance and easy on your pocket is the apex source of our success.
If you want more information then,
Hurry and pick up your phone and
Dial our number 0480033100 Or

You can write us to our email id info@cheapinterstateremovalists.com.au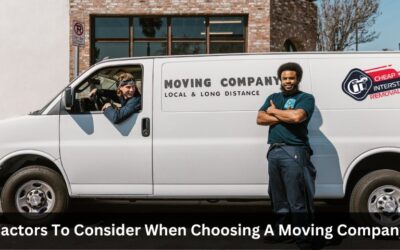 Moving might be a time- and energy-consuming task. One of the most critical decisions you'll make during your move is selecting the right moving company. With numerous options available, it's essential to consider several key factors to ensure a smooth and stress-free...
read more