The removal process comes with too much pressure, from hiring the best removal companies to packing and sorting the items. It's a long process that needs to be handled patiently and perfectly. Since it's an interstate move, you might have to cover long distances, so ensure you are ready for it. No matter how complex processes are, there are always specific ways to make them easy and superficial. The same applies to the moving process. There are some easy ways to make it simpler and more manageable. 
By ensuring certain things, you can make your interstate move easy and bearable; therefore, look for the same. Hiring the best removalist, starting with packing as early as possible, etc., are a few measures implemented to get you close to an easy move. Do your research when choosing removal companies. 
If it's your first-ever interstate move, you might struggle with what and how to proceed. Well, that's what we will be addressing. Here, you will be provided with 10 tips to remember for an easy interstate move. You might have heard a lot about how complex these processes are, but now you will find some ways to implement them, and you will find that if divided into smaller parts, such techniques can also get simpler. 
10 Points To Remember For An Easy Interstate Move  
1) Book the best removalist 
For an easy move, it's essential to book the best removalist. There are many criteria that you need to consider when booking any removalists. First, compare moving quotes, and check if they have the required services, experience, and reputation. Besides trusting clients' feedback, the most important thing is to consider pre-move benefits. Only go with such companies who are up for pre-move services. Pay attention to any red flags, and especially stay focused when offered cheap moving quotes. Yes, it can be a trap. Treat moving quotes as a factor rather than a single element responsible for choosing removal companies. 
Once you check more than 3 reputed removal companies' quotes, you'll get an idea of the average moving cost for the removal services. However, people often get trapped due to a lack of awareness. Such scammers in the name removal companies run their illegal business, often clickbait clients. Therefore, offering a very cheap moving quote could be a trap! So do consider other factors as well. Research well, and find out if the company is licensed. Instead of being suspicious, stay aware, and you'll find good companies. 
2) Start your packing early
Start as early as possible if you choose to do the packing yourself. Without pressure, you can execute things and meet your deadlines if you start early. On the other hand, it can get hectic when you are packing all by yourself, from choosing the right kind of boxes to arranging everything in different packages systematically, labeling it correctly, and everything gets on you. Therefore to make it easy and enjoyable, ask for help from your friends or family. 
Even if you hire removal companies who offer packing services, you have to handle the decluttering of items; therefore, start early. And if this is your first move, then it is advised to hire packers, as with little awareness, you might make it much more complicated instead of making it easy. 
3) Select items for storage 
There are belongings you might only be willing to discard away partially but are neither of current use, like seasonal items, clothes, or sentimental items. These are not meant to throw, but if added to packing, they will add to the weight. But it may not fit with companies' guidelines and might add much more cost. 
But there is a solution to this you can store it in storage. Companies are providing storage facilities to store items temporarily. Many removal companies have a wide range of services, including such facilities, and independent storage companies are also available depending on your need. Primarily they will not store anything illegal or hazardous. But still, different companies have different guidelines. So you can check which one suits you. 
4) Hire a junk removal company 
For an effortless move, hire a junk removal company. Removing junk single-handedly can get tricky and time taking. To find out about such companies. They can extend great help. These companies sole purpose is to get your house junk free. Book it as early as possible; you will easily proceed with other works quickly. 
5) Discard unused items 
Discard the useless items as you don't need them and don't want to carry them to your new place. Your easy move needs to avoid taking unusable items as they will add to weight, size, and so the overall cost of the move. It must be discarded from the house. 
But there must be other sections of items that might not be useful to you but to others. Therefore, things like old utensils, clothes, books, furniture, etc., should be thrown or donated to a local charity. Then, of course, you can also go for a garage sale. 
6) Book removal company early 
Besides booking a good removal company, booking one early is essential. This means you must start your research for the best removal company as early as possible so they can plan your smooth and flexible movement.
Also, once you book early, you'll be able to adjust to the dates, as most moving companies have busy schedules on weekends. Therefore, take advantage of the best removalist by informing them about the moving date earlier.
7) Keep the Essential Kit
To ensure easy movement, pack only some things. Ensure you carry basics like clothes, toothpaste, toothbrush, mourn cleaner, power bank, etc. Especially in the long distance, you'll surely need it, and at that point, it will be stressful to search for such significant belongings. Therefore, keep this point in mind for an uncomplicated move. 
When people skip ensuring such essential things, they end up living complicated moves, and then grumping around won't make any difference. 
8) Manage formal duties  
Formal duties like taking transfer certificates from your kid's school, valid tickets, and other vital credentials and legal documents should be managed to avoid confusion at the new place. Changing your address from the bank, post office, and other necessary places should also be considered. Make sure to complete it early; else, at the last moment, you'll be in a rush and might skip a few important ones. 
Therefore managing all the formal duties is very significant for a comfortable move. 
9) Pack Precisely
Many times, especially when it's your first move, you might need a good idea for packing your stuff. Therefore staying conscious when packing and organizing belongings is essential. 
So, make your packing precise, and load only what is necessary. You can use big boxes to save your belongings during a move.
10) Plan your budget 
Plan out your budget. Depending on what your budget is, you will be spending and doing things. Therefore to make your move manageable, it's essential to know your limits. Consequently, it would help you stay clear with your budget and plan accordingly. 
Conclusion
Stay ready before our professional removalists reach your destination. Place Prepare yourself and talk to the responsive representatives. No Problem removalists to help you organize your move.
Your exclusive possession, manage your home and set your mind ready to experience the magnificent packing and moving experience. Cheap Interstate Removalists aid to arrange your relocation process.
You can also contact us through

call on 0480 033 100 or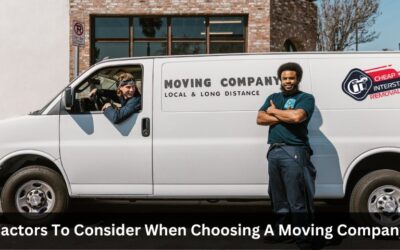 Moving might be a time- and energy-consuming task. One of the most critical decisions you'll make during your move is selecting the right moving company. With numerous options available, it's essential to consider several key factors to ensure a smooth and stress-free...
read more