While moving and settling into a new place gives you many unusual experiences, some of them are good, and some are bad. Purchasing another house, office, or apartment is an incredible achievement and feels very good. But whether your relocation experience will be good or bad mainly depends on the choice of your moving company.
Notwithstanding your earnest attempts to work it out flawlessly, some of the choices could ruin your move. Getting not all the required removal services at a reasonable cost can affect your house or office relocation and turn it into a bad dream.
Therefore always choose the top-rated removalists like Cheap Interstate Removalists In Australia and ask for all the additional moving services you may require during the relocation.
While moving house or office, getting all services in one place helps you a lot from all the rush of moving day. The reputed removalists companies will help you not only with packing, loading, unloading your stuff, and relocating it, but with the cleaning, storage, backloading, and other additional moving day requirements.
Today, we will tell you why you should choose to move with a professional and well-known removalists company and how they will help you with the additional removal services to make your moving journey easier until the relocation.
Why Hiring A Trusted Moving Company Is A Better Choice?
As you know, the way professional removalists perform the task is far better than what your unskilled and inexperienced friends do.
They know how to move their client's goods safely and what additional services are needed to make their moving experience more satisfying and enjoyable.
Experienced moving companies have an excellent knowledge of different relocation tricks and techniques and have served their best moving services to thousands of people.
They have relocated hundreds of houses and offices to local or interstate. Their successful track record is a testimony to that. Besides
read on to know more about why hiring the best moving company is beneficial to you:
Professional removalists take all the stress related to shifting on themselves and provide their customers with a comfortable facility. The best moving companies provide you with a move manager who will help you at all individual phases of your move. Be it when you are booking the move, customizing your packing material, pre-move survey, loading, in-transit, in-storage, and at the time of settling in.
Top moving companies in Australia help you move your belongings anywhere, effortlessly, and damage-free. They will provide you with a broad range of services in your budget, and you get a complete update of your removalist's services. The most beneficial thing about removal companies is that they are very responsive in their work. As soon as you submit your query or request, they quickly respond to you back and promptly start the relocation process. Their truck drivers know all the most precise routes and deliver the belongings on time.
When you hire a top-reviewed removal company, you can rest assured that your belongings will not be harmed and will reach your designated place safely, apart from all types of scams related to moving. The company will take all the responsibility for your relocation and the safety of the goods.
They will provide you with complimentary services like packing, tools and equipment, dismantling, valet unpacking and reorganization, which will help you make your move easier and hassle-free. You do not need to run here and there for the packing supplies and tools; you will get all these services as a complimentary.
Suppose you have started your removal work with the help of your friend, but if your friend gets some urgent work, what will happen? Maybe you will get delayed in moving your house or office, or else you will be left alone to do it. But when you hire movers, they won't leave you in the middle of the relocation and offer complete end-to-end moving services.
What Additional Services Do Movers Offer?
The best removalists thrive on making your moving journey more apparent and relaxed. Every moving company has its set of standards that governs their approaches regarding how they take up the moves.
Likewise, Cheap Interstate Removalists in Australia have set approaches and standards that help us deliver a successful move each time.
Even though we provide all the necessary moving services under one roof, we try to provide something extra. Here are the following five additional services that the best movers provide, along with their standard removal services:
Cheap Backloading Service
Cheap Interstate Removalists will help you save money like never before! If you are sending belongings to the family interstate, doing a small temporary relocation, need to move your stock to the other suburb, etc., and all that in a way low price than the actual price, you must go for the best option, that is a backloading service.
Every best removal company will offer your backloading services if you want to move small or single items to the interstate—the determined and caring group of movers tunes in to your requirements to provide consistent quality from beginning to end.
Along with interstate removal services, experienced companies like Cheap Interstate Removalists tailor your pet transport needs with backloading to make it more flexible.
Packing And Unpacking Service
Packing can make or break your move, and when it comes to moving your cumbersome items. Professional moving companies like Cheap Interstate Removalists offers secure packing and unpacking service with the removals service and have the best trained and skilled packing team to ensure that your belongings are packed within the given time limit. You can rest assured of the professional packers.
The most outstanding quality of excellent fine art packaging service is that the team does more in less time. That means the professional removalists are efficient in their work, and they are trained to do so. They will pack your things with premium packing supplies and unpack them in the given time frame.
The packing team follows a set procedure for packing different types of material. They are rigorously trained individuals who will perform the job by following a set course of action—allowing themselves to use different packing methods.
This procedure will ensure that your belongings are packed systematically and moved in the best way possible. Hiring this additional service is the best way to pack your stuff and avoid the risk of breakage and damage.
Fine Art And Antique Relocation Service
A fine art removals service is a rare moving service that only some top moving companies provide in Australia. But it is essential, especially when you are moving house, as no one wants to take any risk with their fine art transportation.
All the best removalists in Australia provide you with this service, and one such company is Cheap Interstate Removalists which will take care of your expensive fine arts and antiques. They guarantee that your antiques would be relocated safely without any single scratch on them.
Professional moving companies move all types of valuable showpieces and fine arts, regardless of the antique's size, shape, worth, or nature.
The profoundly experienced fine art relocators effectively organise the process, and they carefully pack highly delicate items like gallery displays, heirlooms, and antiques for secure transportation. They can customise your move and make it more flexible for you.
Warehouse / Storage Service
Mainly to meet the requirements of interstate relocation, Cheap Interstate Removalists provide a fully secured and convenient residential and commercial storage service, ensuring that you don't have to outsource one yourself.
When you decide to store your valuables with Cheap Interstate Removalists, they convey a group of profoundly prepared movers to go to your home to gather your possessions and transport your valuables to the storage house.
Guards and CCTV cameras entirely secure the warehouse, and if there is any problem from our side, we will take full responsibility for it and pay it.
Complete Cleaning Service
No person likes to clean the house before or after shifting because it is a very tiring job. Sometimes cleaning the old space becomes essential to get the security deposit, but you do not have enough energy and time. In all these unfavourable cases, professional movers and cleaners are the only people who can save you.
Along with moving services, professional removalist companies provide you with "end of the lease cleaning services" to make your "moving out" more manageable and more relaxed.
They will also offer deep cleaning, weekly cleaning, monthly cleaning and commercial cleaning services. Expert cleaners use the best safe and effective disinfectants and make your place entirely clean and germ-free.
Summary
So, these above were the most common but necessary additional services that a professional removals and storage company offer to its customers.
Therefore, whenever you plan to move your house or office to local or interstate of Australia, consider hiring the best removalists that offer these extra moving services at a reasonable cost and make your move safe and simple.
Cheap Interstate Removalists is also the top Australian moving company that intends to extend its services with honesty and trust. Our movers are talented and experienced to adapt to each circumstance, with better arrangements without fail.
Our local and interstate movers have sufficient resources and skills to perform the easiest to the most complicated or intricate moves. With Cheap Interstate Removalists, you get quality, assurance, and accountability.
We help our customers by providing essential services like a storage facility, cleaning services and a wide range of removalists services in Australia. To contact Cheap Interstate Removalists,
You can call us at 0480033100 OR

Send us your mail at info@cheapinterstateremovalists.co.au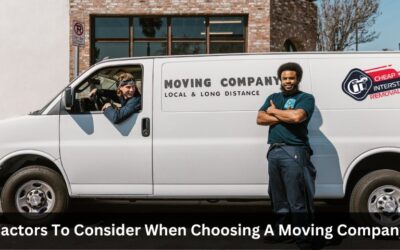 Moving might be a time- and energy-consuming task. One of the most critical decisions you'll make during your move is selecting the right moving company. With numerous options available, it's essential to consider several key factors to ensure a smooth and stress-free...
read more