While moving, most people tend to do all the work independently. They think that moving is not that tough to do, and they can handle all the moving processes on their own.
Yes, you can manage a lot of moving tasks on your own but not all of them. There are some areas of work where you need to hire a team of professional movers to move your valuables safely to your new house.
Usually, the moving process takes part in three significant steps: before moving, The transportation phase, and after moving. And in all three of them, there is a systematic code of work that you have to follow.
There is some work that you can and can not do in all three parts. So in this blog, we will discuss the work or tasks that you should leave for movers while moving to a new place.
Before Moving Process
We include planning, organizing, disassembling, and packing before the moving process. Among all these services, there are some things that you can easily do with the help of your family members and friends, such as planning and organizing.
Because you can make a better plan for your move considering the time and other essential elements of your life, but when it comes to other things, then we would recommend you to leave that work for professional movers which includes:
Disassembling: Some furniture or indoor items such as pool table, piano, bathtub, hot tub or spa tub, etc., needs to be dismantled first. Then you can move them because if you try to move them without disassembling them, this may damage your product and cause a severe injury to you. So for the dismantling part, you should hire a team of professional movers in Perth who know how to disassemble your furniture well without any mistake.
Packing: We all know that packing plays an essential role in moving services because a well-packed box provides a layer of protection to your valuables. You can do packing on your own by bringing your packing materials, but it will cost you relatively high. On the other hand, if you decide to hire professional house movers and packers, they will expertly pack all your valuables and bring their packing material along, and it cost less.
The Transportation Phase
In the transportation phase, we include loading, transporting and unloading. The transportation phase plays the most crucial part in moving because it contains the heaviest work among all.
So we will recommend you leave this hectic task in the hand of movers because the slightest mistake in this part may burn a big hole in your pocket.
Loading: Loading is that part of moving which contains the highest risk of getting damage to your valuables. Because every person has their limit of lifting weight and ordinary people cannot lift the heavy furniture on their own. In this, professional movers help you load your heavy furniture with ease without providing any damage to your valuable.
Transportation: Transportation is that you can handle on your own by booking a moving truck or van, but it will cost you relatively more than hiring a company's moving truck. A company's moving truck will cost less and be well-managed and well-furnished. So it is thoroughly up to you whether you want to hire movers for this service or not.
Unloading: Just like loading, unloading is also challenging to perform. It requires the same human resources and weightlifting as loading. So it would be better if you leave this lengthy work for professional movers.
After Moving Process
We include unpacking, reassembling, cleaning, and organizing your valuables in your new home in the after moving process.
Among all these works, you can handle unpacking and managing your home because unpacking can be done basis on their needs and essentiality.
Only you can do the organizing of your home according to you. But for the rest of the two work, we recommend you to leave it in the hands of professional movers.
Reassembling: In reassembling, we include the reassembling of disassembled materials. You need to have the required knowledge of reassembling your furniture, and most people don't have that. That's why hiring professional movers will help you a lot because they have experienced technicians, and movers have full knowledge of how to reassemble a piece of furniture well.
Cleaning: While talking about cleaning, you may think that why should you hire professional movers for this but think it is this way. After moving and handling all the moving on your own, you get exhausted and tired, and still, you need to manage a lot of things in your new home. So after an exhausting day of moving, you may need some helping hands to help you with cleaning in your new home. So hiring professional cleaners Australia at this time can be a great choice.
Conclusion
So as you read that moving is a hectic task to perform, there are some things that you should not do. So for that work, hire professional movers in Australia such as Cheap Interstate Removalist Australia.
They will assist you with all reliable moving services at a cheap price. You will get a team of hardworking and most reliable movers and packers who will help you move from start to end.
So if you have any queries regarding anything in moving, you can contact us through

Mail at info@cheapinterstateremovalists.com.au

And call us on 0480 033 100.
Or you can also get a quote and get a free estimate for moving. So if you want to hire reliable and affordable removal services, contact us now.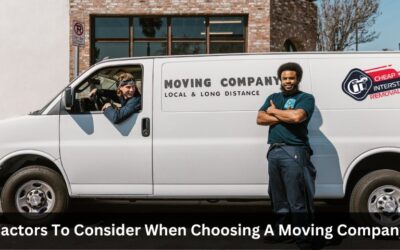 Moving might be a time- and energy-consuming task. One of the most critical decisions you'll make during your move is selecting the right moving company. With numerous options available, it's essential to consider several key factors to ensure a smooth and stress-free...
read more