It's kind of obvious to think or to say that the job of office removalists is similar to that of a residential move. All in all, because they share the same service approach of shifting multiple items from one place to another.
But, office relocation is far more complicated and needs more expertise movers compared to residential move. In the marketplace of Australia where a number of businesses are running, there is a possibility that they need to relocate their new operational unit at some point in time in the near future.
An office is a place in which employees daily perform to support and fulfil the common objectives in a limited period. Any disruption can cause a huge loss to the productivity of that day and eventually hinders the ultimate goals attached to it. The Foundation of any office unit depends on its fundamental unit, which is a balanced combination of man and the machine.
Mobility of a man is easy but, you cannot say the same thing about the machine and different items of your office. Removing office goods is a whole new task when you have so many things to relocate with proper care for the sake of their safety and reusability.
Our unit of office movers will make your work easy. We as the team of professional office movers shift your office to your new desirable place with the minimum disruption.
Cheap Interstate Removalists in Australia encompasses all the guidelines associated with the prominent regulatory bodies for the removals industry. These bodies help protect the customer, support border regulations, and create better outcomes for the customers as well as movers.
What Makes Our Team Of Office Removalists In Australia – Most trusted?
It's our operational tactics and professionalism that make our moving service so good. The priority of our unit of interstate office movers is not to suppress your working productivity at any cost. With the proper utilization of resources, we assure a quick and cost-effective shifting of your working premises to a new location.
It's a great deal of handle with care for us.
We don't work as a bunch of amateurs to move your objects in a rush and get paid.
It's all about professionalism for us. And we mean it.
Whatever the reason is, we are here to deliver you the best office removalists service at cheapest cost.
Process Check Of Our Team Of Office Removalists
Our process is based on the choices you make. You will be the one who decides the time and our team will work on it accordingly. Removals from our side will give special attention to the details from you before the moving process starts. Look every, office has a different type of interior and exterior structure. So, the first step of our process is to analyze the place.
Analysis of your office place
Our move manager conducts a free pre-move survey of your place. They figure out the geometrical figures and numbers of shapes in which your office designs.
Why Do They Do That?
Only to be aware of the surroundings in which they have to conduct their operation the next day. Shifting is not like carrying something through a straight path. There is a possibility of multiple turns and stairs on our way to the main exit and we need to care about that for ensuring full safety.
The Items
The office is full of both fragile and non-fragile items, electrical and non-electrical items, Luxurious and non-luxurious items. The categorization of each item is an important part of our process because it gives us an idea of how to move every object more precisely.
Whether it is an artifact or artwork, Plates or lampshades, or any item of glass. Don't worry about this, leave it to us, our team of interstate office removalists will move them safely.
Your electronics and electrical items (desktops, routers, connectivity system, office bell, fans, etc.) should be properly unplugged and shifted without bearing any damage.
Packaging And Storage
Strong cardboard boxes will be used for packing up your items. And tightly sealed with the strong gripping of quality tape. Fragile objects will be bubble wrapped to preventing vibration during the move. We offer all types of packing supplies required for safe move in our packing services.
Our unit of office removalists stores all the items belonging to your office in a safe and sound warehouse under the surveillance of our on-duty guards for as many days as you wanted.
Transportation
If you relocate your office within a city, we provide you with removal vans and trucks for transportation of your delicate items to the new location.
But if your location is situated outside of the state then our company Cheap Interstate Removalists provides you with heavy-duty trucks for your move.
Our firm provides you with the removalists service which carries all the load of your office at once and helps you to shift your overall workstation to a new place. After the arrival at the new place, we moved all the items safely and installed the overall safety. And convert your new place into your office of dreams.
Cheapest service by Interstate Removalists Australia
The best offers we have for you costs you minimum fees.
We use a common principle of less wastage and use everything in a sufficient manner. This will allow us to choose a variety of options at once. Having all utilities at one point without any shortage.
When Will You Make Your Move?
Our team of cheap interstate removalists is always ready to help you. Under the impression of "Providers of a great service experience". Our office removalists are happy to help you.
For more details, please
Call us on 0480033100 Or

You can mail us at info@cheapinterstateremovalists.com.au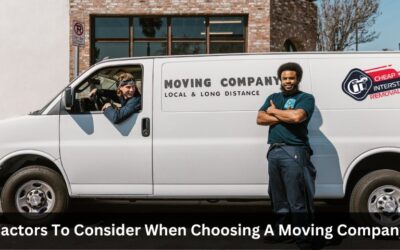 Moving might be a time- and energy-consuming task. One of the most critical decisions you'll make during your move is selecting the right moving company. With numerous options available, it's essential to consider several key factors to ensure a smooth and stress-free...
read more