While moving your house, ensuring the safety of your household items is the most critical aspect of damage-free shifting with Cheap Interstate Removalists. If your precious belongings are delivered with scratches and breakages it makes you distressful. There are various things like antique paintings, imported crockery sets, expensive glass material, house decor items etc. which are too delicate to move with household goods. These items need perfect packaging to protect them from damage caused during transportation. We provide the best packing services in Australia for Antique Packaging.
The Safety of your antique stuff is our topmost priority to ensure zero damage relocation provided by the Interstate Removalists Australia. While handling heavy household goods, some of your items would be at the highest risk of suffering damages due to negligence of the shifting personnel. It is possible to prevent such incidents by hiring professional packers and movers to do the ideal packaging of all items with premium packing materials. Packing is the most important thing to do before any move whether locally or interstate. Cheap interstate removalists offer professional and affordable packing and unpacking services to help with your move. Our expert movers and packers take care of your whole moving process including packing & unpacking and provide a friendly team that you can always rely upon.
Benefits of Hiring Packers and Movers Companies
When it comes to moving to a new place or city, there are many advantages of hiring professional and experienced packers and movers services. Some of the most significant advantages are:
The door-to-door moving services
Door to door moving service is necessary when you are moving to a long-distance location. Our professional movers and packers team packs and picks all the things from your doorsteps and delivers safely to your new home. In this way, you need not panic about the loading and unloading of the items.
Premium quality Packing  material
Packing is probably the most important job in moving. Have you ever observed why different transport companies show different prices to relocate the same amount of goods? Actually, this is because of the overall premium quality of the service they will offer including packing. Best moving and packing companies bring their premium quality packing materials and use various layers to ensure the safety or security of the goods during the transport.
Loading, Unloading and Transporting
When you have decided to hire the best movers and packers in your area, you do not need to find labourers to load or unload your stuff. Our Packing and Moving company in Australia have their own workforce, who are skilled and experienced in handling heavy loads and fragile items like glass door cupboards, TV unit, double door fridge, crockery etc.
Provide Transit Insurance
For the complete protection and security of your moving service, the insurance becomes important. Cheap Interstate Removalists offer this type of insurance to its customer. We provide insurance for any kind of damage during the transit. This is the most important advantage of hiring movers and packers' services.
Complete Removals with professional packers and movers
For all of our interstate and local removals, we provide complete packing services. Our moving and packing team will professionally handle and pack your household items. They label each item properly to make a complete stock list. Our movers and packers not only protect your goods but we will also be fully accounted for your new destination.
In addition, Our packers and movers provide the following packing material:
Protective furniture pads
Range of carton sizes for household goods
Special moving boxes for TVs and bicycles
Shock-resistant poly bubble wrapping
Custom wrapping for high-value items
Plastic protection bags for fragile and soft furnishings
Specially designed protector bags for mattresses
measure packing case for art, antiques and pianos
Packing types that our movers and packers consider
Following are the types of packing that our movers and packers follow:
Paperboard Boxes and Bags
Paperboard is a paper-based material that is lightweight, but strong. It can be easily cut and handled to create custom shapes and structures. These features make it suitable for uses in personalized packaging. It is manufacture by folding fibrous materials that come from wood and then bleaching it. We provide packers used paperboard packaging which comes in various grades and each grading is suitable for different packaging requirements.
Our professional packers and movers use paperboard boxes for packing cosmetics, medicines, milk, juice, cosmetics, frozen food and more. We provide professional movers and packers that used paperboard packaging for those who prefer the natural and environment-friendly look of recycled paper, which can be used for the same type of packaging applications.
Many people consider these corrugated boxes as 'cardboard' as it manufactures the large shipping, shoe & storage boxes.  Depending on the longevity and stability of the box, these boxes come in different shapes and sizes. They can be used to make packaging with different features, performances, and strength. The board is cut into different sizes and shapes to become corrugated packaging. Other applications of corrugated board packaging include retail packaging, pizza delivery boxes, small consumer goods packages etc.
A polybag also called a pouch or a plastic bag and is manufactured out of flexible, thin, plastic film fabric. It is one of the most common types of packaging and can carry a varied range of products including food items, flowers, waste, chemicals, magazines, and so on.
Polybags are long-lasting yet lightweight, reusable and flexible. Structure of polybag is simple to make and be fully customized in design, size & style. Due to all of these features, it still remains cost-effective. Many poly bags are made with security features, tape attachments, hanging holes, and carrying handles to make sure the products are well secured.
Bubble wrap (also known as air cellular cushioning material) is manufacture from polyethylene film. It is a flexible sheet that wraps tightly around goods. It comes in different types based on bubble size. Small bubbles are suitable for the smaller items and the air inside those bubbles is not only a good insulator but also good at resisting shock. It protects your items against vibration damage. Bubble Wraps are affordable, lightweight, good insulator and shock absorber and fit easily around products of any shape in a package.
Our packers and movers are using Shrinkwrap for both primary and secondary packaging. Our movers and packers use shrink wrap around the product like CD cases and loose notebook paper. We use shrink-wrap for your actual product. Shrinkwrap also provides puncture and abrasion protection as well as impact resistance. Shrink Wrap is used for individual product packaging which provides them protection and it also gives the product visual appeal.
For the products that need to be a seal, vacuum packaging is the best choice. Due to this, it made the preferred option for perishable foods. Their design also makes them popular for dehydrated goods and food intended for camping and backpacking trips. Vacuum wrapping removes oxygen from the packaged food, which keeps out bacteria, mould, and yeast.
Food that comes in vacuum packaging will stay fresh in the freezer longer than food wrapped in other types of packages. We provide packers that use vacuum packaging for medical items also.
Our packers and movers offer professional and affordable packing and unpacking services to help you. We provide professional packers and movers that take care of your whole moving process from packing & unpacking. We also provide premium quality packaging supplies with a friendly team that you can always rely upon. All items are pack and wrap for maximum safety and grouped together by room. Our trained and skilled specialists deliver packaging for your large, small, fragile, and valuable items. We provide a wide range of standard packaging solutions and are able to pack your home or office when needed. Our packers and movers help you to transport your goods to their final destination with the best packing services.
Want to know more about this.
Then pick up your phone and call us at 0480 033 100,
Or you can write us a mail on our email id info@cheapinterstateremovalists.com.au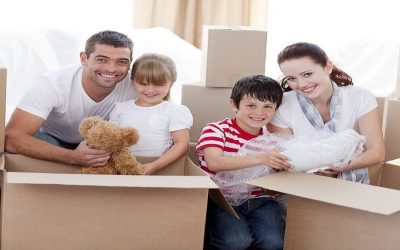 It is easy to say that moving house with kids is not a difficult thing. Indeed it is easier said than done. Moving house with kids is not an easy task and sometimes it may even turn things upside down. Every parent wants their kids to be safe. Kids are much inclined...
read more