It is easy to say that moving house with kids is just a small work. Indeed it is easier said than done. Moving house with kids is not an easy task and sometimes it may even turn things upside down. Every parent wants their kids to be safe. Kids are much inclined to injury, even a small scar is enough to have a significant effect on their future. As a parent, you have to be cautious of your child's safety which is your first priority. Moving to a new house might be your dream but for children, it is completely reversed. They don't like changes that much and are more comfortable with a familiar atmosphere. You may send your child to your neighbor's house or your relatives but that is not possible every time.  Even they will feel annoyed at some point. So, that's not a good idea.
It is difficult to estimate how long one would take to pack things to move house from one to another. But it becomes easier when you have someone to do it for you. So, it is thus advisable to hire a company to do the relocation work for you in a short time without any disturbance. Therefore CHEAP INTERSTATE REMOVALISTS is here to help you with the same.
Problems arising while Moving House with Kids
While moving house with kids many problems may arise. Kids create a lot of disturbance.  Here are some problems are given below;
 Kids may create a lot of hurdles for the House Removalists. They may trip them or place objects in their path.
 They might play while packing, can hide some items, and can even damage a few.
 We can't say anything about their temperament. They may be happy at one point and getting along well while they may be sad at another and may throw away goods.
  They make noise or cry resulting in disturbing and distracting others including house Removalists by irritating them which may result in damage to the beneficial belongings.
 They can hide somewhere while playing hide and seek and can make people around them anxious about their well being or can hide in places having no air or can even lock themselves somewhere.
All these are common problems when you have kids at home.
Tell Kids About Moving to a New House 
It is better to tell them about moving so they get mentally prepared by the time of moving.
Aware them as early as possible
Tell them about moving as soon as possible so they do not have to hear it from others first. Make them fully prepared and include them as much as possible.
Answer all questions
After knowing they might ask several questions.  Be patient and answer all their questions one by one. They may feel confused and completely impatient. So help them as much as you can.
Providing sufficient details
Your kids may need enough details depending on their age. Tell them the exact date and day when you will leave your current house and will enter a new one. Provide them with the details like how many rooms will be there, how life will change for good.
Give them reasons to exhilarate
It's your duty to help them to find reasons to feel excited or delighted otherwise they will find reasons on their own to be unhappy, as an excuse for not moving house.
Understanding their feelings
Kids might experience a lot of mixed emotions while thinking about moving. Help them to get engaged with music, games, and their favorite cartoon TV shows.
Take them to see their New House
After telling them about the move to make them prepared for the reality ahead, bring them to the new house for visiting or around the area you are moving to. Visit there from time to time. This way they will get familiar with the surroundings and will make new friends there. They will feel excited about moving near their friend's house and will make them feel relaxed.
Don't pack their favorite things
Packing everything is not a good idea especially if it is your child's favorite. They'll feel anxious about why their belongings are being packed. Kids are very close with their toys so don't pack them while they are around. If there is something that you don't need or some unwanted toys for your kid instead of packing them just donate them to poor kids. Packing unwanted items will only consume your precious time and will be a waste.
Don't Overpack boxes
It is quite possible that you may overpack boxes. On moving day, there are lots of lifting and carrying so the boxes should not be too heavy and it will be difficult to carry heavy boxes. Put light items in large boxes and heavy items in small ones. It is safer to have many boxes than a few that are extremely heavy.
Hire Professional  Removal Services
Even an idea about packing is quite stressful let alone packing. Sometimes it is difficult to say from where to start. Packing fragile items requires a lot of care so it is better to hire professionals. They wrap every item with care and skill and have fully equipped vehicles to carry dining tables, soft furnishings, etc.
Some Tips for Moving House with Kids 
Here are some important tips for you to consider while moving house with kids: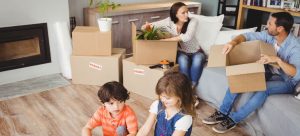 Pack early than required
It is better to start packing early because packing with kids might take a longer time than expected. If you are hiring an organization to do the moving task, do let them know that you have a kid at home so they may do their work safely.
Safe time for packing
Kids feel sad when seeing their things being packed up so just pack the items when they are not around either when they are at school ( if your child is old enough to attend school) or when they are asleep.
Make a plan
Once decided, make a week plan. Make a list of the do's and don't while moving house with kids. Making a plan helps you to do  every work efficiently and smoothly. Everything should be according to plan and list.
Psychologically Prepared
Many psychologists believe that it is good to tell the kids about the move before. They should be aware of the transition ready to take place around them beforehand. Prepare them psychologically that moving to a new house means saying goodbye to old memories and welcoming the new ones.
Stay Calm and Positive
The best thing to do while moving house with kids is Stay Positive.  Kids learn from their parents, so the way you'll react to relocation will have a significant effect on your child's behavior.
Talk with their new teacher
In case they are going to a  new school get help from their teachers by requesting them to take more care of your child and observe their behavior.  Aware them in case a child behaves badly due to the stressful time at home.
Arrange a babysitter
If your kids are not old enough to go to a school then it's best to hire a babysitter. It will be even better if you can send them to the babysitter's house while in the meantime you can pack alone or if you have hired someone, so with them.
Stick to a normal routine 
Don't disturb their routine.  Feed them at usual timings, walk with them and play with them as usual. Moving house should not interrupt their own routine as it may be stressful for them.
Make new friends
Befriend your neighbor after relocation can provide enough opportunities for your child to make new friends and play with them and get busy. While you may utilize the time to unpack all the boxes.
Conclusion
It is not an impossible task to move a house with kids but yes it is really tedious. Your kids are your life so involving them in the process is important. Above we have provided the detailed problem that may arise while moving house with kids. We have also discussed tips while moving house with kids and need to hire some professional Removalists. Hiring someone will be of great help especially while moving house with kids. Their professionals work accordingly as instructed. They arrive on time, pack on time and take care of your belongings in transit.
Our Company CHEAP INTERSTATE REMOVALISTS  provides you with the best professionals, best environment, best services at a cheap and affordable rate. Our company not only helps in moving house but also have a lot of experience in moving furniture, office, etc. We arrive on time and do everything as you wish. We do everything systematically. It can also help you to move house between states. We don't exaggerate,  it's our work that speaks.
Do you require more information?

If "Yes" then call us on our number: 0480 033 100

Or you can email at: info@cheapinterstateremovalists.com.au
Fragile removals are something that can be important if you are shifting to a new house or new location. If you want to move your valuable and fragile items on your own. They might get harm while relocating from one place to another. Therefore it's better to choose...